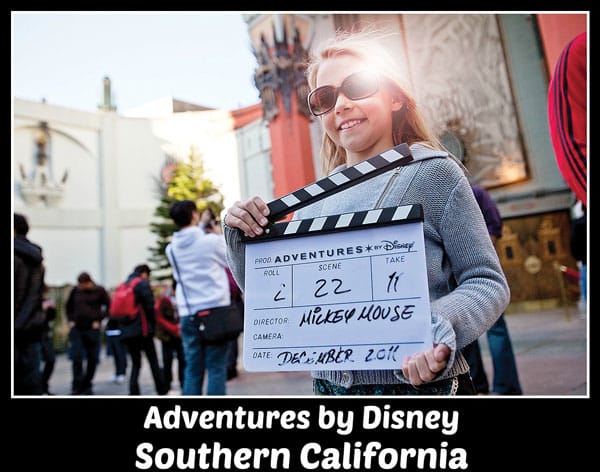 Hollywood, Walt Disney Studios & The Disneyland® Resort – 6 Days/5 Nights
Backstage Magic – Go behind the scenes and experience Disney magic in the making! Enjoy special VIP access to Walt Disney Imagineering, the Walt Disney Studios, The Jim Henson Company Studios and even the Disneyland® Resort.
Adventures by Disney Disneyland and Southern California – Backstage Magic Tour Highlights
Private Hollywood Tour – Follow in the footsteps of your favorite celebrities on this walking tour through Hollywood. You'll see some of the most iconic sites in Tinseltown, including the TCL Chinese Theatre, El Capitan Theatre, and the Hollywood Walk of Fame.
Visit The Jim Henson Company – Enjoy an exclusive VIP visit to the Jim Henson Company Studios, built on the original site of Charlie Chaplin's movie studio.
Exclusive Access at Walt Disney Imagineering – Get a very special glimpse of how Walt Disney Imagineers – architects, designers, engineers and technicians – create the magic at Disney theme parks and resorts.
Behind the Scenes at Disneyland Resort – Make your dreams come true with a 2-day VIP experience at Disneyland Park and Disney California Adventure Park with special Disney's FASTPASS® service and reserved parade seating.
Southern California: Backstage Magic Accommodations:
Loews Hollywood Hotel
Disney's Grand Californian Hotel® & Spa
Meals Included: 5 Breakfasts, 3 Lunches, 3 Dinners
Age Requirements: Minimum age 4, Recommended age 5+
Adventures by Disney Disneyland and Southern California – Backstage Magic Tour Travel Dates and Itinerary
2020 Season Departure Dates
May 31, 2020 – Jun 5, 2020
Jun 7, 2020 – Jun 12, 2020
Jun 14, 2020 – Jun 19, 2020
Jun 21, 2020 – Jun 26, 2020
Jun 28, 2020 – Jul 3, 2020
Jul 5, 2020 – Jul 10, 2020
Jul 19, 2020 – Jul 24, 2020
Jul 26, 2020 – Jul 31, 2020
Aug 2, 2020 – Aug 7, 2020
Aug 9, 2020 – Aug 14, 2020
Aug 16, 2020 – Aug 21, 2020
Aug 30, 2020 – Sep 4, 2020 – Adult Exclusive
Sep 6, 2020 – Sep 11, 2020 – Adult Exclusive
Sep 13, 2020 – Sep 18, 2020 – Adult Exclusive
Sep 20, 2020 – Sep 25, 2020 – Adult Exclusive
Sep 27, 2020 – Oct 2, 2020 – Adult Exclusive
Oct 11, 2020 – Oct 16, 2020 – Adult Exclusive
Oct 18, 2020 – Oct 23, 2020 – Adult Exclusive
Oct 25, 2020 – Oct 30, 2020 – Adult Exclusive
Nov 8, 2020 – Nov 13, 2020 – Adult Exclusive
Nov 15, 2020 – Nov 20, 2020 – Adult Exclusive
Nov 29, 2020 – Dec 4, 2020 – Adult Exclusive
Dec 13, 2020 – Dec 18, 2020
Jan 17, 2021 – Jan 22, 2021 – Adult Exclusive
Feb 14, 2021 – Feb 19, 2021 – Adult Exclusive
Mar 14, 2021 – Mar 19, 2021 – Adult Exclusive
Download the 2020 Itinerary

Information subject to change