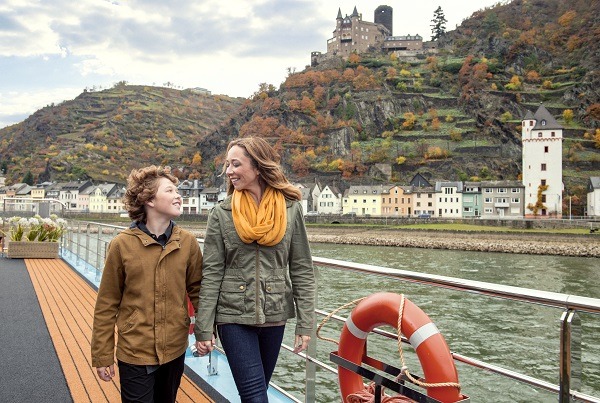 Switzerland, France, Germany, The Netherlands
Discover six destinations in 4 countries on the Adventures by Disney Rhine River Cruise! Enjoy exclusive sailings with AmaWaterways, a leader in luxury river cruising, as well as exciting activities for every member of your family.
Rhine River Cruise Highlights
Black Forest Adventures
Ride a toboggan through the pastoral landscape and learn to make an iconic cuckoo pipe.
Heidelberg Castle Tour
Learn about the history of this renowned storybook castle that dates back to 1614.
Riquewihr Excursion
Enjoy this quaint medieval village with its cobblestone streets and 13th-century structures.
Amsterdam Canal Cruise
See this picturesque city and its remarkable attractions as you glide down one of its 165 canals.
Rhine Gorge Castle Cruise
Sail through the Rhine Gorge and the lovely shoreline that's populated with 30 iconic castles.
Chocolate Museum
Discover the history and culture of this tasty treat, then sample some amazing chocolate.
Indoor Winter Park
Sled, tube or hit the ropes at this indoor ski hill that's home to wonderful wintry games.
Medieval Wine Caves
Head down to the basement caves of Cave Historique Des Hospices and its ancient wine barrels.
Rüdesheim Gondola Ride
Take to the sky via a gondola ride to Niederwald Monument for amazing panoramic views.
Cologne Walking Tour
Walk around this historic 2,000-year-old city that is now a cultural hub of galleries and museums.
Horseback Riding in Riquewihr
Ride the trails of the Champ du Feu and enjoy breathtaking views from atop a horse.
Meals Included: 7 Breakfasts, 6 Lunches, 7 Dinners
Age Requirements: Minimum age 4, Recommended age 8+
Travel Dates and Itinerary
2020 Season Dates
June 14, 2020 – June 21, 2020
June 28, 2020 – July 5, 2020
July 12, 2020 – July 19, 2020
July 26, 2020 – August 2, 2020
August 9, 2020 – August 16, 2020 – D23 Experience specialty sailing
September 6, 2020 – September 13, 2020 – Food & Wine Experience specialty sailing
September 20, 2020 – September 27, 2020 – Food & Wine Experience specialty sailing
October 4, 2020 – October 11, 2020 – Food & Wine Experience specialty sailing
Download the 2020 Season Itinerary
2021 Season Dates
May 27, 2021 – June 3, 2021
June 10, 2021 – June 17, 2021
June 17, 2021 – June 24, 2021
July 1, 2021 – July 8, 2021
July 8, 2021 – July 15, 2021
July 15, 2021 – July 22, 2021
July 22, 2021 – July 29, 2021
July 29, 2021 – August 5, 2021
August 5, 2021 – August 12, 2021
September 30 – October 7 – Food & Wine Experience specialty sailing
Octpber 14 – October 21 – Food & Wine Experience specialty sailing