Disney's All-Star Movies Resort
1901 West Buena Vista Drive
Lake Buena Vista, FL 32830
Check-In: 3:00 PM
Check-Out: 11:00 AM
Big on Everything…Except for Price
Disney's All-Star Movies Resort pays homage to the iconic legends of Disney films. From the lovable Herbie, the VW Bug, to the adorable spotted pups of "101 Dalmatians," and the playful characters from Andy's Room, our resort captures the essence of these beloved movies.
Immerse yourself in the enchantment of Disney at a remarkable value. With its unique architecture, themed swimming pools, and delightful food court dining experiences, Disney's All-Star Movies Resort offers an extraordinary atmosphere filled with whimsy and larger-than-life charm. Each of our three expansive resorts is adorned with larger-than-life movie icons, creating a playful ambiance that will ignite the childlike wonder in everyone.
Experience the magic of Disney with exceptional amenities and features. Dive into specially themed swimming pools, where you can relax and unwind in a setting inspired by your favorite Disney films. Indulge in delicious meals and snacks at the casual food court, where you'll find a variety of delectable options to satisfy your cravings.
Disney's All-Star Movies Resort guest rooms are thoughtfully designed to provide comfort and convenience, ensuring a restful stay for all guests. Enjoy the enchanting company of Disney characters as they adorn the walls, bringing the magic of the movies right into your room.
Disney's All-Star Movies Resort offers an unforgettable experience that combines Disney's renowned quality with incredible affordability. Join us and discover a world where imagination knows no bounds.
Book your stay at Disney's All-Star Movies Resort today and embark on a journey that will transport you to a whimsical realm filled with beloved Disney characters, delightful experiences, and cherished memories that will last a lifetime.
Disney's All-Star Movies Resort Map

Guest Rooms
– Rooms for guests with disabilities
– All rooms are non-smoking
– Buildings offer elevators and stairs
Standard Room Location
Views of the Courtyard, Pool, or Parking Area
King Bed 1 or Queen Bed 1 and Queen-Size Table Bed 1
Sleeps up to 4 Adults
Preferred Room Location
Views of the Courtyard, Pool, or Parking Area
Close to Cinema Hall, Dining, Shopping, and Transportation
Queen Bed 1 and Queen-Size Table Bed 1 or King Bed 1
Sleeps up to 4 Adults
Dining at Disney's All-Star Movies Resort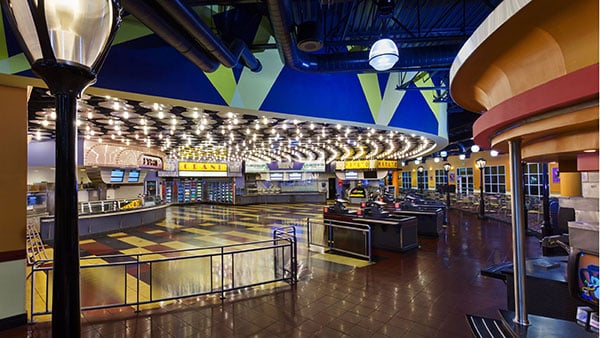 Dining at Disney's All-Star Movies Resort is always a big hit, thanks to a wide-ranging selection of delicious foods to choose from.
World Premiere Food Court
Breakfast, Lunch, Dinner, Late Night
Lights! Camera! Action! Feast on the food of 5 quick-service stations, showcasing all-American fare.
World Premiere Food Court Menu
Silver Screen Spirits Pool Bar
Bar Service
Try a specialty cocktail—the true stars of this brightly colored bar located by the Fantasia Pool.
Silver Screen Spirits Pool Bar Menu
Disney Resorts Pizza Delivery
Dinner, Late Night
Relax, put your feet up and enjoy dine-in pizza delivery service right to your Disney's All-Star Movies Resort hotel room.
All-Star Pizza Delivery
Recreation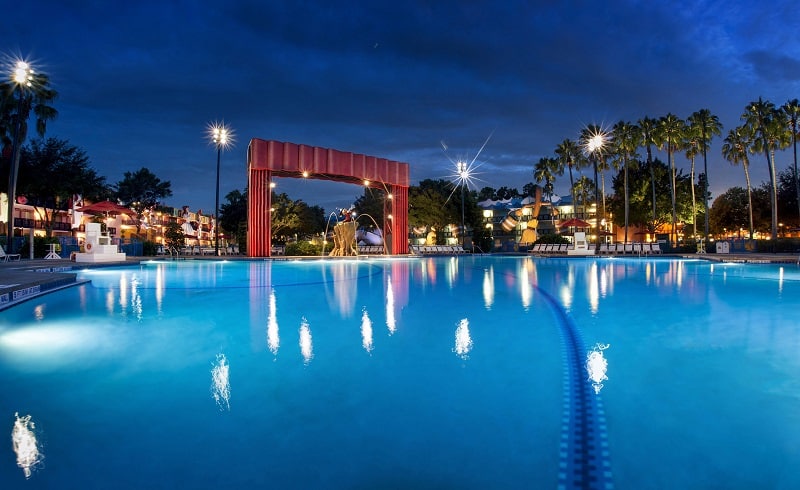 Pools – The main pool is Fantasia themed and located in the Fantasia section. Sorcerer Mickey sprays water at this expansive pool inspired by the classic Disney film. For the little ones, a kiddie pool and water play area are located nearby. Duck Pond Pool, an additional hockey rink-styled pool based on The Mighty Ducks film series, is also available for Guests looking to cool off.
Movies Under the Stars – Watch complimentary screenings of Disney films—taking place on select nights at The Reel Spot, the outdoor seating location for World Premiere Food Court!
Jogging Trail
Arcade – Play video and pinball games at the Reel Fun arcade in the Cinema Hall building, near the Disney's All-Star Movies Resort food court.
Children's playground – Kids can climb, slide and play at this area found between the Fantasia and Toy Story sections.
Amenities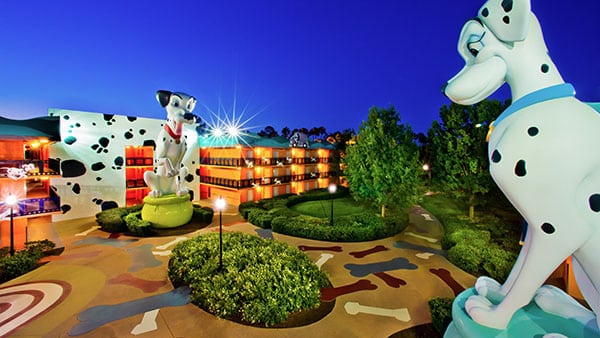 Disney Bus Transportation
Most areas throughout Walt Disney World Resort, including theme parks, water parks, Resort hotels and the Disney Springs area, are accessible by complimentary bus transportation. The bus stop at Disney's All-Star Movies Resort is located in front of Cinema Hall.
Disney Minnie Van™ Service Connected by Lyft
Discover a whimsical way to dash about! Getting to select locations around Walt Disney World Resort—or traveling to and from Orlando International Airport—is easy when our private vehicles whisk you off in delightful Disney style. (Additional charges apply.)
Online Check-In
Wireless Internet Access (Wi-Fi)
Stay connected with complimentary access in your room and at most public areas throughout the Resort.
Parking
Standard overnight self-parking is available to registered guests.
Designated Smoking Areas
Laundry and Dry Cleaning Services
24-hour self-service laundry rooms are available near Duck Pond Pool and Fantasia Pool. For dry cleaning and valet laundry service, please select "Housekeeping" on your Guest Room phone.
Merchandise Delivery and Pickup
Shopping is a breeze at Walt Disney World Resort, thanks to complimentary merchandise delivery to your Disney Resort hotel.
Merchandise location (gifts, sundries)
Rates and Packages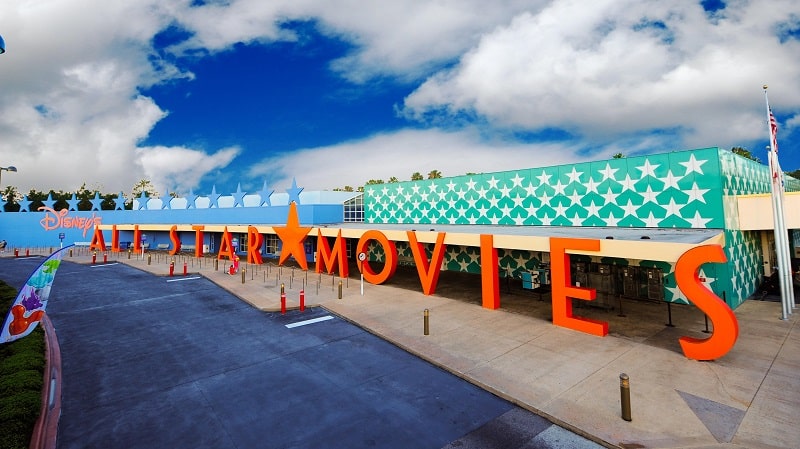 At Disney's All-Star Movies Resort enchantment awaits you at every turn. Disney's All-Star Movies Resort rates may fluctuate depending on several factors, including the time of year, the length of your stay, and the type of room you choose.
Please note that an additional adult charge of $15 per night will apply when there are more than two adults staying in a room.
Standard rooms at Disney's All-Star Movies Resort will sleep up to four guests in two double beds or 2 guests in a King bed.
Disney frequently provides special offers and packages, including discounted rates on rooms at Disney's All-Star Movies Resort. These discounts may be available for specific travel periods or with other park-related experiences or dining options. The Magic For Less Travel will watch for discounts and promotions that can be applied to your reservation even after you book.
Disney offers packages that include a stay at Disney's All-Star Movies Resort, as well as tickets to the theme parks, dining, and other activities. Packages vary in price and content, so it is important to compare different options.
2024 Walt Disney World Resort Hotel Packages
2025 Walt Disney World Resort Hotel Packages
The Magic For Less Travel is here to help you find the best package that suits your needs and ensures an unforgettable experience at Disney's All-Star Movies Resort. Here are some tips to guide you along the way:
Consider your budget: Determine your budget for your Walt Disney World vacation. Knowing your financial limitations will help you narrow down the available package options at Disney's All-Star Movies Resort. Packages can vary in price based on factors such as the length of stay, room category, and additional inclusions.
Timing is Everything: Your travel dates can significantly impact the cost of your Disney package. To optimize your savings, consider visiting during off-peak times, such as weekdays or non-holiday periods. These periods often offer lower rates and reduced crowds, allowing you to enjoy the magic of Disney without compromising your budget.
Compare and Customize: To ensure you're getting the best value, take the time to compare different packages. Explore the options available, such as park tickets, dining plans, and resort perks. This way, you can find the package that provides the perfect balance of magical experiences and value for your money.
Choose Disney's All-Star Movies Resort as your magical home away from home, where cherished memories are made, and dreams come true. Book your perfect package today and embark on an extraordinary Disney adventure you'll cherish for a lifetime.
Free Quote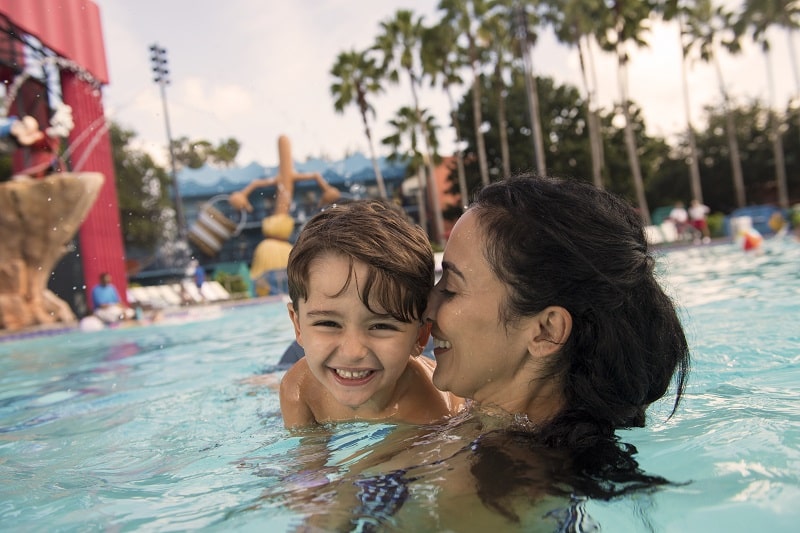 Request a FREE, No-Obligation Quote from one of our travel agents. Our services are provided FREE of charge. You won't pay more when you book with us. Start planning your Walt Disney World Resort vacation today!
Newsletter
Stay informed of the latest special offers. Subscribe to the Magical Notifications weekly newsletter from our friends at The Mouse For Less.
NOTE: After subscribing, you will receive an e-mail asking you to confirm your subscription. This is a standard security feature. Follow the instructions in the confirmation e-mail to complete your subscription.