Typhoon Lagoon Blizzard Beach Free Quote
The Disney Water Parks beat the beach. They pummel the pool. They're the absolute peaks of water park cool. And whether you want to thrill out, chill out, lay out or play out, you and your family can do all that and more. 'Cause around here, imagination comes in waves.
Disney's Typhoon Lagoon Water Park
An Ocean of Wet and Wacky Fun
Go against the tide at Disney's Typhoon Lagoon, the Water Park that blows other water parks away. 'Cause after the storm of storms blew through, it left this tropical paradise full of twisting slides, roaring rapids and the largest inland wave pool around in its wake! Come thrill out on a twisting, turning, water coaster, chill out on the beach, visit a shark reef, or cruise a creek. At least to start out with! You'll also find slides, rides and bubbling jets for the little ones at Ketchakiddee Creek.
View a detailed layout of Disney's Typhoon Lagoon Water Park

Typhoon Lagoon Surf Pool
Take a dip in the azure blue waters of one of the world's largest wave pools. The surf's up all day long as body-surfing enthusiasts catch waves toward the sandy shore. Dive into the excitement, languish in the gentle waters farther from the action or lounge on the white sand beaches. Whichever you choose, you can always listen to the shrieks of delight every time a wave heads for shore. Surf's up!
Humunga Kowabunga
Triple your pleasure by riding one of three enclosed speed slides that send adventurers zooming in a blaze of water to a splashy surprise ending. Whip downhill, dropping five stories in seconds, in enclosed flumes, where you can't see where you're going until you get there!
Height Requirement: 48″ (122 cm) or taller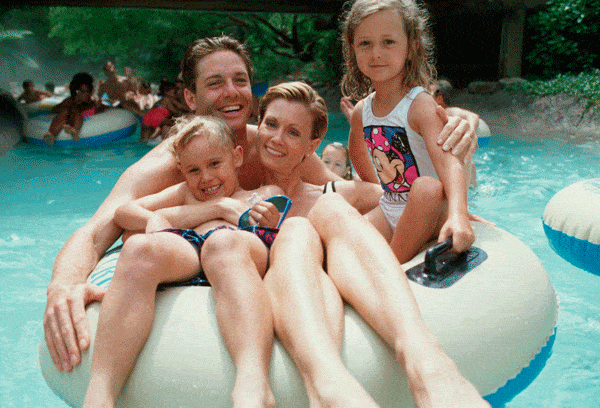 Castaway Creek
Ease into the tropical retreat of this meandering creek that winds its way around the entire Park. Relax on an inner tube as your gentle journey takes you through cool mists and grottoes, rain forests and waterfalls.
Shark Reef
Swim into a tank with real live sharks and schools of tropical fish. This saltwater adventure takes place on a reef around an overturned sunken tanker. Non-swimming Guests can even go inside the tanker and observe the sharks through portholes. Sink your teeth into this exciting excursion!
Length: 100 x 23 feet, Depth: Up to 10 1/2 feet
Ketchakiddee Creek
An interactive world of pint-sized slides, fountains, and water falls designed specifically for young children. Romp on sloshy slides, fun-filled fountains, watery whales, slippery seals, an interactive lushly leaking tugboat and a mini ripply-rapids ride. Little squirts love the adventures that are just their size in this children's water play area. It's a little wateropolis of splashy fun!
Storm Slides
Race 30 miles per hour down a winding waterway on your way to plunging into a refreshing pool. Choose from three high-octane body slides: the Jib Jammer, Stern Burner or Rudder Buster. This tangled trio of twisting waterslides offers waves of excitement, caves, waterfalls, geysers and a more than three-story drop. It's a "swell" time.
Gang Plank Falls
Get carried away aboard these four-person giant inner tubes for the whole family! Enjoy the view on your way down, but be on the look out for special water effects and rock formations. Whoosh through caverns dripping with water on this crazy curvy course, and laugh your rafts off!
Mayday Falls
Plunge into the fun on the longest waterslide in the Park. Travel through caves and waterfalls aboard your own personal inner tube as you swirl down the mountain in the shadow of the famed stranded shrimp boat, "Miss Tilly." Grab your raft — the swervy, curvy watery good times are waiting. It's a rush!
Keelhaul Falls
Take a tropical whitewater adventure as you slip and slide your way past incredibly craggy scenery in this rush of a twisting trip. Grab your inner tube and set off down the mountain; as if you could stop! It's a roaring rapid ride through a cavernous palm-lined course that cuts a curving path to fun!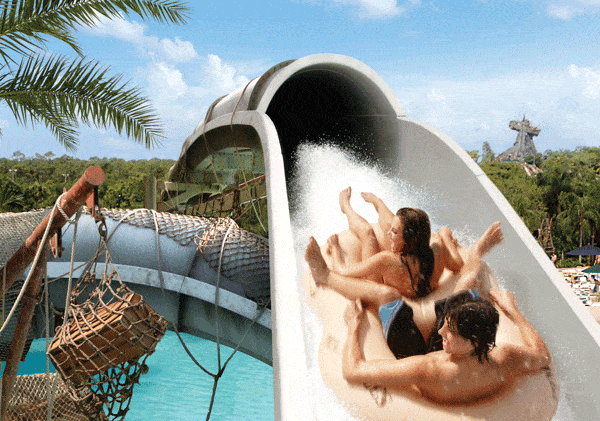 Crush 'N' Gusher
Defy gravity as gushing, crushing jets of water rush your raft through this exceptional coaster experience. Discover a surprise around every corner as you slip and slide at each suspense-filled climb, turn and breathtaking plunge. Surge as the torrents deliver exactly what you want: wild, wonderful white-knuckle thrills!
Disney's Blizzard Beach Water Park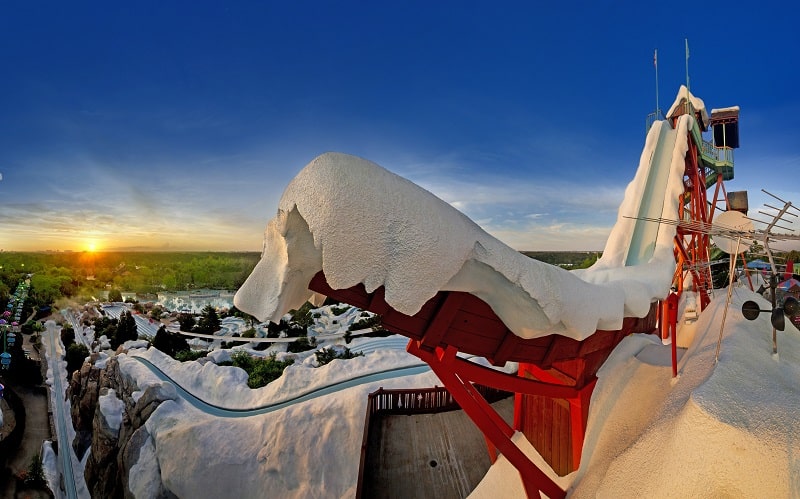 Experience the Coolest Water Park at Walt Disney World – Disney's Blizzard Beach!
Plunge into an oasis of awesome fun in a fantastic snow-capped mountain setting. Legend has it that Blizzard Beach was once a ski resort, but now it has transformed into today's coolest water park. Get ready for heart-pounding thrills with the 120-foot-tall Summit Plummet water slide, known for its "black diamond" intensity. Little ones will adore the "bunny slope" level areas designed just for them. Whether you're relaxing on tube floats or experiencing the excitement of family fluming, there's something for the whole gang to enjoy together at Disney's Blizzard Beach Water Park. Don't miss out on this ultimate snowy adventure right in the heart of Florida!
View a detailed layout of Disney's Blizzard Beach Water Park

Ski Patrol Training Camp
Make a real splash at this training camp play area, designed especially for pre-teens. Swoosh down inner-tube slides, slide hanging from a T-bar, whisk down curvy slides and take a challenging ice-flow walk across floating icebergs.
Slush Gusher
Speed down the 90-foot tall Mount Gushmore in a slush-banked mountain gully. Two humps create brisk fun-filled ups and downs on your journey to the bottom of the mountain. Launch down the slopes in the shadow of Summit Plummet.
Height Requirement: 48″ (122 cm) or taller
Downhill Double Dipper
Shoot the tube and blast down the slopes at 25 miles per hour in these side-by-side speed slides. Hop on your inner tube and disappear into a tunnel before remerging seconds before your splashdown. These two parallel 230-foot-long racing slides are a slippery good time.
Height Requirement: 48″ (122 cm) or taller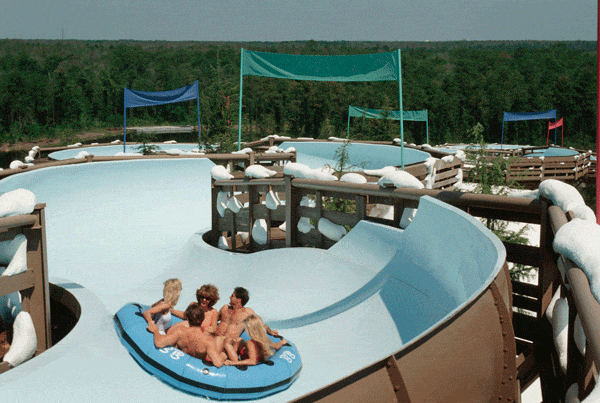 Teamboat Springs
Bring the whole gang aboard one of the longest family raft rides in the country. Twelve hundred feet of white water and rushing waterfalls make the twisting, turning journey from the top of the mountain to the bottom a giggling, screaming adventure. Three- to six-passenger inner tubes ensure that the family that rafts together, laughs together!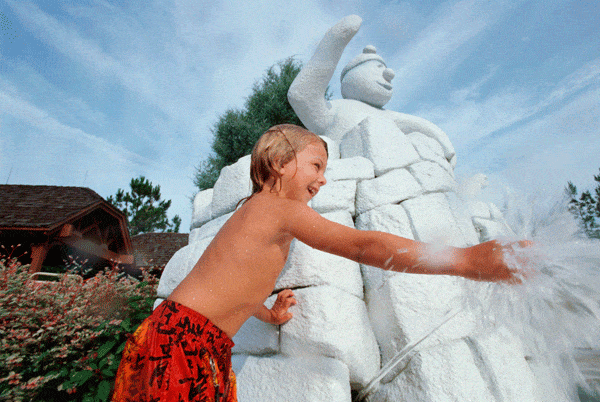 Tike's Peak
Little kids are invited to have mountains of fun in this water play area. The youngest Blizzard Beach goers can slide, splash and swim while sunning in the "snow" in this spot reserved just for them. Gentle body slides, an inner tube slide, interactive fountains, pop jets and a wading pool ensure a chillin' good time.
Toboggan Racers
Race in one of eight side-by-side lanes that toboggan down the mountain. Hang on to your mat and head down the slopes. Exhilarating dips make your charge to the finish line an avalanche of fun.
Runoff Rapids
Take your choice of three incredible inner tube rides that careen down the hill into a refreshing plunge pool. Each flume is different, so try all three! One is completely enclosed, while the others are open. All three twist and turn on tantalizing water-logged journeys down the banks of Mount Gushmore!
Snow Stormers
Speed down the slopes in switchback slalom-style racing slides. Bank through the curvy path marked by ski-type gates. Choose from one of three different downhill racing courses. Hop on your mat and compete with your friends. Meet in the plunge pool at the bottom of the course and hop out of the water to start all over again!
Melt Away Bay
Take a dip in the gently bobbing waters of this bay that is fed by the melting snow run-off from Mount Gushmore. The expansive one-acre pool is great for those who want to wade in and just get their feet wet or take an invigorating swim. Pounding waterfalls make a great retreat when you really need a refreshing plunge.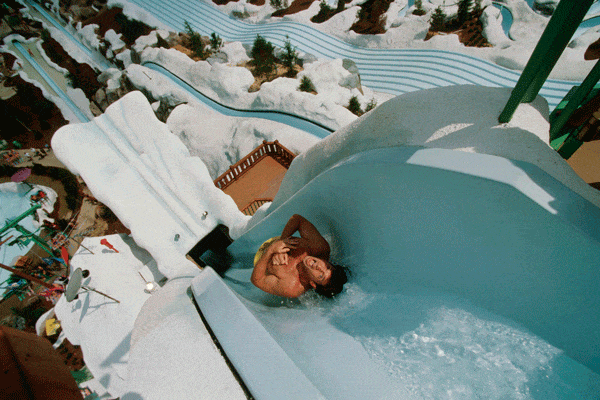 Summit Plummet
Look out below! Dare to take the vertical plunge from the top of one of the world's tallest and fastest free-fall body slide. At an exhilarating height of 120 feet, this sky-scraping ski jump of a thrill ride drops you down the slopes at a speed-limit-breaking 55 miles per hour for a 360-foot long trip back to the lower atmosphere.
Height Requirement: 48″ (122 cm) or taller
Cross Country Creek
Relax and Unwind on the Gentle Meandering River – Melt-Away Bay at Disney's Blizzard Beach! Kick back and experience the ultimate chill as you float in a comfy inner tube along this serene river that winds around the entire park. Let the warm sun envelop you while you bask in tranquility and enjoy the beautiful surroundings. Melt-Away Bay offers a blissful escape and a convenient transportation system, effortlessly taking you from one area of the park to another. Or let the gentle current guide you, allowing you to soak in the sights as the world drifts by at a delightful, leisurely pace. Let the worries melt away as you savor the serenity of Melt-Away Bay, a true oasis of relaxation at Disney's Blizzard Beach Water Park.
Chairlift
Ascend to Adventure on a Colorful Chair Lift at Disney's Blizzard Beach!
Embark on a whimsical journey as you hop aboard this fanciful chair lift adorned with umbrellas and dangling skis, offering one-way access to the majestic Mount Gushmore. Get ready to scale the slopes and experience an array of thrilling attractions that await at the summit. Brave the exhilarating Summit Plummet, conquer the rushing excitement of Slush Gusher, and team up with friends and family for a wild ride down Teamboat Springs. Feel the rush as you slide through the twists and turns of Toboggan Racers and challenge the slopes with the speedy fun of Snow Stormers. With a lift ticket to adventure, there's no shortage of excitement and laughter at Disney's Blizzard Beach Water Park!
Guests Must Be 32in (81cm) or taller