From the savannahs of Africa to the Australian outback, the world is full of breathtaking landscapes and fascinating wildlife ready to be discovered. Discover the beauty and the magic of Southeast Asia through the splendor of Vietnam, Cambodia and Laos. Journey through Australia and visit a wildlife sanctuary where you'll meet wombats and kangaroos, stop off to see the scenic metropolis of Sydney and explore the Great Barrier Reef. Walk the Great Wall, see the renowned Terra Cotta warriors and visit with some rare and adorable pandas as you tour the ancient land of China.
Australia Adventures by Disney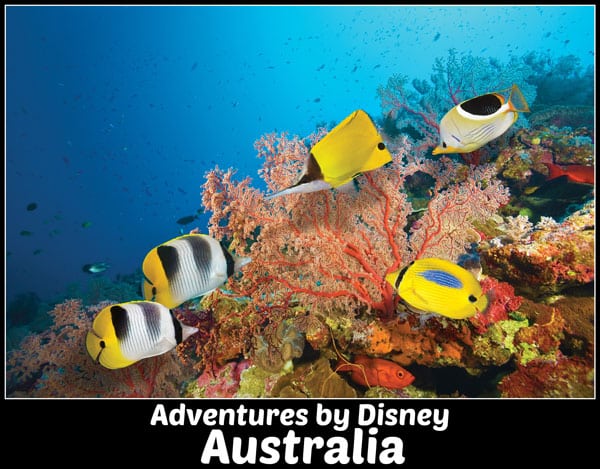 Cairns, Great Barrier Reef, Melbourne, Sydney – 10 Days / 9 Nights
Australia Discovery Down Under
Explore tropical rainforests, dive the Great Barrier Reef, cruise Sydney Harbour on a jetboat, visit echidnas, wombats, and kangaroos in the Melbourne animal park, and so much more on this island continent! During your time in Australia with Adventures by Disney, you won't be short on excitement, so be sure to say "g'day" to adventure!
China Adventures by Disney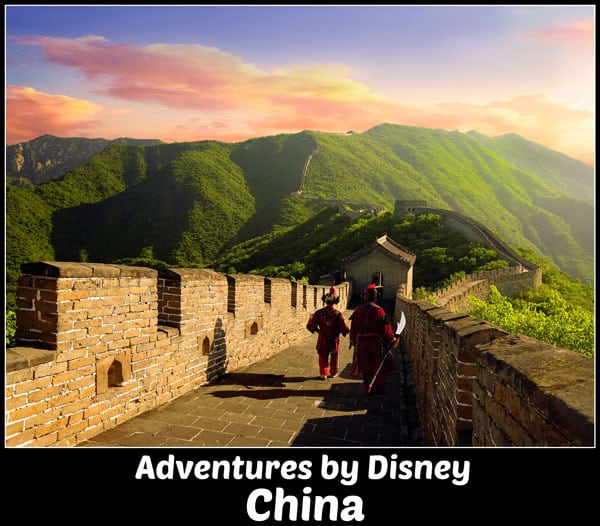 Hong Kong, Beijing, Xi'an, Guilin, Chengdu, Shanghai – 12 Days/11 Nights
Enchanted China
Marvel at the traditions, natural wonders and vibrant history of China. Discover how it has maintained its rich cultural identity while becoming a force in the modern world as you visit magnificent destinations that include the Great Wall and the Forbidden City, as well as Hong Kong Disneyland and Shanghai Disney Resort!
Egypt Adventures by Disney
Cairo, Aswan, Nile River Cruise, Luxor, Sharm El Sheikh
10 Nights / 9 Days
Take an epic Adventures by Disney vacation to Egypt, where you'll marvel at the gilded treasures of King Tutankhamun and the Great Pyramids at Giza, explore the sprawling capital of Cairo, visit magnificent destinations along the Nile River and bask on the beaches at Sharm El Sheikh along the Red Sea. You'll be awed by the storied history of the people, places and cultures of this ancient country.
Japan
Kyoto, Hiroshima, Takayama, Tokyo – 10 Days / 9 Nights
Discover Japan, the island nation that embodies its ancient culture while embracing the modern world. From an isolated mountain village to Tokyo, the capital city where sacred shrines stand in the shadow of skyscrapers, you'll become immersed in the people and customs of this proud country on an amazing Adventures by Disney family vacation.
New Zealand
Auckland, Waiheke Island, Rotorua, Christchurch, Greymouth, Franz Josef, Lake Wanaka, Queenstown | 12 Days / 11 Nights
Follow in the wake of the Māori people as you journey to this magnificent destination on the Adventures by Disney New Zealand vacation. A unique destination where pride of culture, pioneering spirit, respect for the land and sense of adventure form the very heart of the Kiwi people and the country they love.
South Africa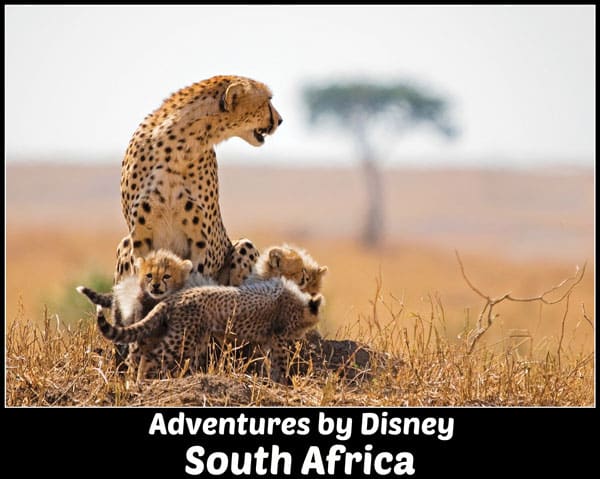 Cape Town, Knysna and Kapama Game Reserve – 10 Days/9 Nights
Safari to South Africa – Experience the beauty of the people, cultures and landscapes of South Africa on this amazing Adventures by Disney vacation where you'll thrill to the majesty of seeing wild animals in their natural environments, view Cape Town from atop the awe-inspiring Table Mountain and travel to the Cape of Good Hope at the southern tip of the continent.
Vietnam, Laos & Cambodia
Saigon, Hoi An, Hanoi, Luang Prabang, Angkor Wat – 12 Days/11 Nights
Jewels of Southeast Asia – Discover the beauty and magic of Southeast Asia through the splendor of Vietnam, Laos and Cambodia. Filled with history and tradition, these countries offer their own natural beauty, artistic elegance and philosophies of living that permeate everything from their martial arts and religious practices to their delicious regional cuisine.
Highlights
Explore Ho Chi Minh City
Marvel at this stunning multi-cultural city where skyscrapers and pagodas share the skyline.
Mekong River Delta Cruise
Glide past the villages and floating markets that make up the landscape of life on this mighty river.
Cú Chi Tunnels
Walk through the network of tunnels used as a base of operations by the Viet Cong during the Vietnam War.
Ancient Hoi An Village
Tour the ornate temples, preserved buildings and bustling markets of this beautiful city.
Vietnamese Cooking Class
Use regional ingredients from Hoi An's central market in a private class with a local chef.
Temples of Luang Prabang
Stroll the winding pathways and tour the elegant Buddhist temples of this mystical town.
Chinese Lantern Workshop
Create your own colorful Chinese lantern to bring home as a keepsake from your adventure.
Vietnam War Remnants Museum
Discover a trove of historic artifacts and photographs from the Vietnam War.
Marble Mountains
Meditate in the sanctuaries and pagoda temples that fill the 5 mystical hills of this peaceful setting.
Tai Chi Class with a Master
Energize your mind, body and spirit as you learn the gentle art of Tai Chi from a Tai Chi master.
Electric Cart Tour of Hanoi
Go "green" as you board an electric cart for a tour through the Old Quarter of ancient Hanoi.
Angkor Archaeological Park Tuk-tuk Tour
Hop aboard a motorized tuk-tuk as you tour the temples and monuments.
Thang Long Water Puppetry Theatre
Experience this centuries-old art form performed in a waist-deep pool.
Living Land Rice Farm
Learn the ancient methods of rice production at this gorgeous organic community farm.
Adventure Dates
Vietnam, Laos & Cambodia Dates
Feb 6, 2023 – Feb 17, 2023 – Adult Exclusive
Mar 13, 2023 – Mar 24, 2023
Mar 27, 2023 – Apr 7, 2023
Apr 2, 2023 – Apr 13, 2023
Apr 16, 2023 – Apr 27, 2023 – Adult Exclusive
Jun 5, 2023 – Jun 16, 2023
Jun 19, 2023 – Jun 30, 2023
Jul 3, 2023 – Jul 14, 2023
Jul 17, 2023 – Jul 28, 2023
Sep 18, 2023 – Sep 29, 2023 – Adult Exclusive
Oct 2, 2023 – Oct 13, 2023 – Adult Exclusive
Dec 25, 2023 – Jan 5, 2024
Jan 22, 2024 – Feb 2, 2024 – Adult Exclusive
Feb 5, 2024 – Feb 16, 2024 – Adult Exclusive
Mar 11, 2024 – Mar 22, 2024 – Adult Exclusive
Mar 25, 2024 – Apr 5, 2024
Trip Overview
Accommodations
Park Hyatt Saigon
Hyatt Regency Danang Resort and Spa
Sofitel Legend Metropole
Belmond La Residence Phou Vao
Sofitel Angkor Phokeethra
Flights
Arrive: Tan Son Nhat International Airport, Saigon (SGN)
Return: Siem Reap International Airport (REP)
Meals
11 Breakfasts
8 Lunches
6 Dinners
Age
Minimum Age: 6 / Adult Exclusive: +18
Suggested Age: 8+
Request a FREE, No-Obligation Quote from one of our travel agents. Our services are provided FREE of charge. You won't pay more when you book with us. Start planning your Adventures by Disney vacation today!
Newsletter
Stay informed of the latest special offers. Subscribe to the Magical Notifications weekly newsletter from our friends at The Mouse For Less.
NOTE: After subscribing, you will receive an e-mail asking you to confirm your subscription. This is a standard security feature. Follow the instructions in the confirmation e-mail to complete your subscription.