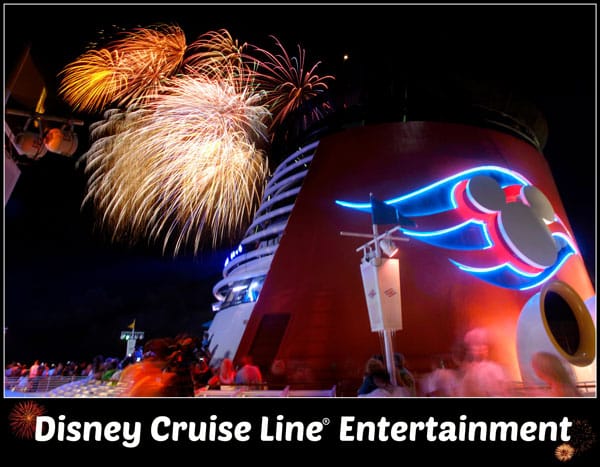 Onboard, the Disney Difference is apparent in every detail from areas designed exclusively for children, teens and adults, to original Disney entertainment and innovative dining.
Live Shows Movies Deck Parties Disney Character Experiences Specials Free Quote
Build memories to last a lifetime. Embrace the spirit of imagination with magic for every member of the family. See again and again why nobody creates entertainment like Disney. Broadway-caliber Disney musicals, first-run Disney Digital 3-D movies and exciting live performances are only some of the entertainment options available on a Disney cruise.
Live Shows
Thrill to fabulous original productions on the stage of the wonderful Walt Disney Theatre. Laugh and sing along with professional performers and favorite Disney Characters in Broadway-style shows with brilliant costumes and stunning special effects. Meet heroes and villains, encounter romance and comedy, watch dreams come true. It can all happen to you in these live shows that are truly Disney magic.
A Fantasy Come True
Ship: Disney Fantasy
This high energy, multimedia, musical welcome show follows one family's journey as they discover the amazing experiences and enchanting surprises that await them aboard the Disney Fantasy. Ultimately, they learn that the greatest experience the ship has to offer is the opportunity to make memories together as a family that will last a lifetime.
All Aboard: Let the Magic Begin
Ship: Disney Magic® (7-night or longer cruises
Let the magic begin in this delightful welcome to the vacation of your dreams. Laugh out loud during sneak peeks at the comedians who will be performing in your ship's clubs, sing along with the extraordinarily talented Disney Cast, and meet some very special guests. Through songs, music, comedy bits and magic tricks, receive an entertaining overview of the many events, activities and venues available to you onboard, with tips to help you make the most of your cruise vacation. It's the start of voyage you'll never forget!
An Unforgettable Journey
Ship: Disney Fantasy
Celebrate the extraordinary journey guests experienced onboard the Disney Fantasy. This musical farewell show highlights the memorable moments and distinctly Disney touches through the words and wisdom of the man himself – Walt Disney. Walt Disney quotes, audio and video clips connect the guests' experiences to the man who started it all.
Disney Dreams…An Enchanted Classic
Ship: Disney Magic, Disney Wonder
Join Peter Pan as he leads you on a magical musical adventure where dreams really do come true. Discover the power of faith, trust and pixie dust as Aladdin, Jasmine, Cinderella, Ariel, Sebastian, Belle, Simba and other favorite Disney characters bring treasured Disney songs to life. The show features dramatic laser effects, pyrotechnic effects, and includes a special appearance by Tinker Bell. Wish upon a star as you celebrate an enchanted evening to cherish forever.
Disney's Aladdin – A Musical Spectacular
Ship: Disney Fantasy
Laugh along with the wise-cracking Genie and the cast from the classic animated Disney film, "Aladdin" In this fast-paced, 45-minute musical comedy, Aladdin is back as the "street rat" of Agrabah, who ends up with a Genie who grants him 3 wishes, battles the evil Jafar and falls in love with Princess Jasmine. Flying carpets, magic lamps, wise-cracking genies, princesses and evil wizards are all a part of this Broadway-style production.
Disney's Believe
Ship: Disney Dream, Disney Fantasy
This lavish production tells the tale of a father who, through the power of Disney magic, reconnects with his daughter and learns a valuable lesson about what is important in life. This show takes guests to the garden of Dr. Cornelius Greenaway. His daughter Sophia makes a special birthday wish and the impossible happens: Genie from Disney's "Aladdin" appears to make her wish come true along with more than 20 of Disney's most beloved characters.
Remember the Magic: A Final Farewell
Ship: Disney Magic (7-night or longer cruises)
Delight in this live show that brings together some of the finest entertainment of your vacation-including variety acts, theatre performers and Disney Characters-for a fun-filled final look at some of the most memorable moments from your cruise. Re-live cherished moments from the voyage's spectacular shows such as the twist on the Cinderella Story and the pixie dust of "Disney Dreams." Share the memories with beloved Disney Characters in a final farewell that proves that dreams really can come true.
The Golden Mickeys
Ship: Disney Wonder
It's Lights, Cameras, Action! as you step onto the red carpet for a glamorous awards tribute to the most cherished songs from Disney's classic films. Honor your favorite Disney heroes and villains in this brilliant production that brings Disney's greatest musical hits to life. And don't be surprised if you become a star when pre-show red carpet interviews are broadcast in real time via video camera onto screens within the theatre for everyone to see.
The Golden Mickeys: A Timeless Tribute
Ship: Disney Dream
This guest favorite gets an extra sprinkle of glitz and glamour with new musical numbers, enhanced technology and dazzling special effects. Enjoy an aerial ballet featuring Ariel from "The Little Mermaid," an elegant ballroom waltz inspired by "Beauty and the Beast" featuring the Beast's transformation into a prince, and a romantic duet performed by Rapunzel and Flynn Rider, lead characters of Disney's animated feature, "Tangled."
Toy Story – The Musical
Ship: Disney Wonder
Preserving the humor and heart of the original "Toy Story" film, revisit the touching story of friendship between Buzz Lightyear (a state-of-the-art action figure) and Woody (a traditional cowboy toy) as they compete for the attention of Andy, their boy owner. It's an unforgettable song-and-dance spectacular exclusive to Disney Cruise Line®, with 6 original songs, Randy Newman's classic, "You've Got a Friend in Me" and 10 spectacular, larger-than-life sets.
Twice Charmed – An Original Twist on the Cinderella Story
Ship: Disney Magic (7-night or longer cruises)
Discover a classic tale told in a brand new way in this marvelous musical with a brilliant cast, colorful costumes, sensational sets, wonderful new songs, and a surprising twist: Cinderella's evil stepmother hires a Fairy Godfather, who rewrites the course of history and forces Cindy to endure a whole new series of hardships. But her belief in herself — and her dreams — lead to a happily ever after you'll never forget!
Disney Wishes
Ship: Disney Fantasy
This signature show is a musical journey about three best friends who discover that the secret to being a grown-up is staying connected to their inner child. Their wish evokes an enchanted world where a cavalcade of Disney characters – including Rapunzel, Flynn Rider, Lilo, Stitch, Mulan, Hercules, Pinocchio, Timon and Pumbaa – materialize to guide the teens through their magical journey. Full-scale production numbers and special effects bring excitement to the stage as the cast performs original songs and classic Disney tunes with a contemporary twist.
Request a Free No Obligation Vacation Quote
Movies
On all Disney Ships, there are 2 large, state-of-the art theatre venues that screen first-run films and other popular motion pictures. In a cruise industry first, both theatres also screen 3-D digital movies. Equipped with the latest digital 3-D projectors, experience the fun and excitement of both new and classic films during your cruise with some special surprises – adding a fourth dimension to your Disney cruise movie-going experience.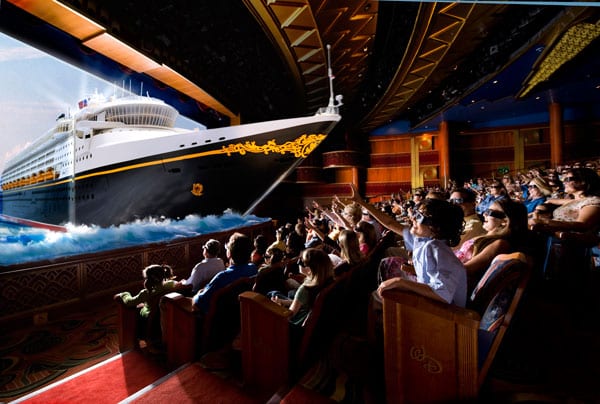 Buena Vista Theatre
Ships: Disney Magic®, Disney Wonder ®, Disney Dream, Disney Fantasy
Evocative of the illustrious movie palaces of Hollywood's golden years, this opulent theatre features plush décor reminiscent of the grand Art Deco styles and the latest in state-of-the-art projection and sound technology. It also boasts dual level stadium seating, in which every seat in the theatre offers an exceptional view of its giant movie screen.
Walt Disney Theatre
Ships: Disney Magic, Disney Wonder, Disney Dream, Disney Fantasy
In addition to original live entertainment, this theater also hosts Disney movie premieres, allowing Guests to enjoy a film's opening at the same time it's making its nationwide debut. Recalling the grandeur and luxury of elegant theatre palaces, it features warm wood paneling, red plush seating and a red velvet curtain in the grand styles of the 1930s and 1940s.
Request a Free No Obligation Vacation Quote
Deck Parties
Deck parties are spectacular, open-air music and dance extravaganzas that happen on the upper open-air deck of the ship. Starring many of your favorite Disney Characters alongside Disney Cruise Cast Members, Deck Parties invite you and your family to join in the excitement and be a part of the show.
Sail-Away Celebration / Sailing Away
Ship: Disney Magic®, Disney Wonder®, Disney Dream, Disney Fantasy
On Embarkation Day, this fun-filled dance party extravaganza heralds the start of your Disney cruise vacation and stars Disney cruise Crew Members and Disney Characters. Begin your cruise with an exciting dance party featuring music and interactive dance numbers. Kick up your heels, clap your hands and party it up for an adventure you'll never forget. The show is a celebration of the fun aboard a Disney cruise, building to the exciting sounding of the ship's horn.
Pirates IN the Caribbean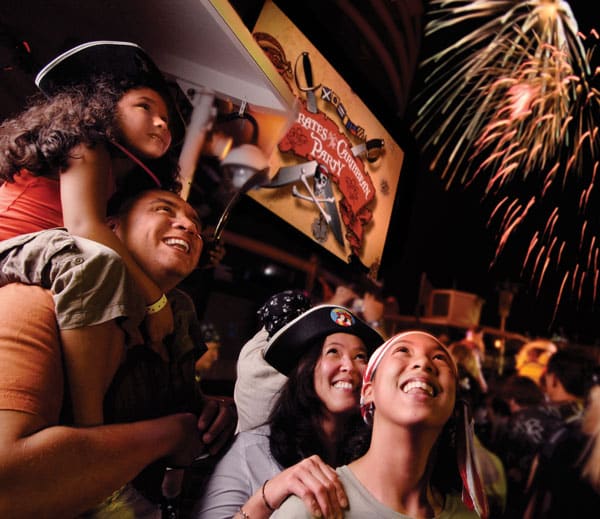 Ship: Disney Magic, Disney Wonder
This deck party celebrates what it means to be a pirate. The event begins with a pirate-themed dinner in one of the Main Dining restaurants. After dinner, venture to Decks 9 and 10 for a treasure trove of entertainment starring some of your favorite Disney Characters bedecked in pirate garb. As the fun hits full swing, skull-and-cross bone projections signal the arrival of Captain Hook, Mr. Smee and a gang of pirate baddies. But not to worry, you can be sure Mickey and friends save the day. Featuring a breathtaking finale, revel in a spectacular fireworks display*-the only one in the world that is offered by a cruise line.
*Fireworks are weather permitting and not offered during Alaskan cruises.
Mickey's Pirates IN the Caribbean
Ship: Disney Dream, Disney Fantasy
A family-friendly interactive show featuring the famous Disney characters. Guests become members of Mickey's Pirate Crew as they participate in a series of pirate-themed musical numbers. As a new addition to Mickey's Pirates IN the Caribbean celebration, the skies above the ship will explode with brilliant colors during Buccaneer Blast!, the largest fireworks* extravaganza presented aboard a cruise ship. This pyrotechnic spectacular is choreographed to songs from the "Pirates of the Caribbean" movies, "Peter Pan" and the Pirates of the Caribbean attraction at the Disney theme parks.
*Fireworks are weather permitting.
Club Pirate
Ship: Disney Dream, Disney Fantasy
Later in the evening, after the fireworks spectacular, revel in a special appearance by Captain Jack Sparrow, from the "Pirates of the Caribbean" films, who kicks off Club Pirate, a high-tech, open-air dance party on the upper decks of the ship. Guests unleash their inner pirate and dance their boots off during this family-friendly and electrifying bash featuring stunning visuals and special effects.
Pixar Pals Party
Ship: Disney Wonder (Alaska sailings only)
Pixar Pals Party, offered exclusively on Alaskan cruises in place of Pirate Night, is a lively atrium celebration starring familiar faces from some of your favorite Disney·Pixar films. Share hugs, receive autographs, dance and sing along with the likes of Buzz Lightyear and Woody, and even delight in a special "Toy Story" menu at dinnertime.
Request a Free No Obligation Vacation Quote
Disney Character Experiences
A Disney cruise offers you what no other cruise line can – memorable experiences with Disney Characters* Say hello and shake hands with Cinderella, Snow White and Stitch. Share warm hugs and hearty laughs with Peter Pan and Alice in Wonderland. Receive one-of-a-kind autographs from the likes of Donald Duck and Daisy Duck. And pose for pictures alongside the lovable, but scheming chipmunks, Chip 'n Dale.
You don't have to visit a Disney Park to meet and greet favorite pals. Disney Characters love to cruise! Be on the look-out for Mickey Mouse, Minnie Mouse, Captain Hook and more – as they make their way both around the ship and appear at designated places.
Plus, on all Disney cruises, a final farewell reception lets you share goodbye hugs and snap some last-minute pictures of your favorite Characters, Crew Members and stars of the Live Shows before your cruise vacation draws to an end.
Please note that some Character locations are designated as photos only. At these places, autographs will not be allowed, due to time constraints. For a schedule of Disney Character appearances, check the Personal Navigator – the Disney Cruise Line daily newsletter detailing all there is to see and do – once you're onboard the ship. You can also dial 7-PALS from your stateroom phone or check the message board in the Lobby Atrium for more details about Character Greetings.
*Disney Character availability is subject to change.
Request a Free No Obligation Vacation Quote