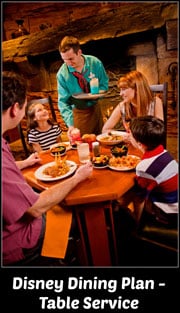 The Disney Resort Hotel Deluxe Dining Plan package will cover almost all of your dining and snacking costs while vacationing at Walt Disney World. This package offers guests three meals (Table Service or Quick Service) per person per night at any participating Disney restaurant. It also includes two snacks per person per night and a refillable resort mug per person. An appetizer and dessert are included for both lunch and dinner with your Table Service meals.

As a result of physical distancing, capacity in restaurants and availability of dining experiences is very limited and certain experiences such as Character dining cannot be provided. As a result, sales of Disney dining plans are temporarily suspended.
In 2020, the Plan is available for $119 per night for adults and $47.50 per night for children (ages 3-9). For more details on the plan, download the 2020 Deluxe Dining Plan guide

View the 2020 Dining Plan Locations

For each PACKAGE NIGHT, guests ages three and older will receive three meals per person, per night, at a choice of:
3 Meals
ANY combination of Quick-Service and/or Table-Service Restaurants
Each Table-Service lunch and dinner meal includes:
One appetizer, one entrée, one dessert and one non-alcoholic beverage (or alcoholic beverage, for guests ages 21 or older)
OR one full buffet Each Quick-Service meal includes:
One entree, one dessert and one non-alcoholic beverage (or alcoholic beverage, for guests ages 21 or older)
OR one complete combo meal
2 Snacks
Examples:
– Frozen ice-cream novelty, popsicle or fruit bar
– Box of popcorn
– Single serving grab bag of chips
– One 20oz bottle of Coke, Diet Coke, Sprite or Dansani water
– Single piece whole fruit
– Medium fountain soft drink or apple juice
And many other choices
Resort Refillable Drink Mug
1 per person, per package.
Using Table Service Credits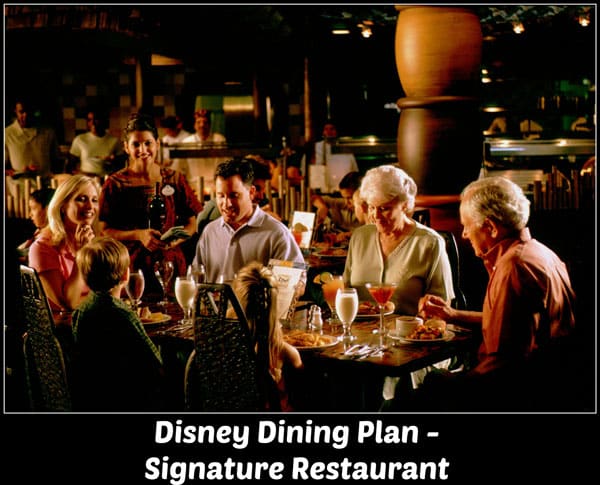 Table service credits may be used in many different combinations, at over 100 participating restaurants on Walt Disney World Property. Below is a list of some of the ways guests may use Table Service credits.
Character Dining:
1 Table Service meal may be exchanged for 1 Character Dining Experience. (Meals at Cinderella's Royal Table Require 2 Table Service Credits.)
Signature Dining and Dinner Shows:
2 Table Service meals may be exchanged for one of the following: 1 Signature Dining Experience at one of Disney's finest restaurants, 1 Disney Dinner Show (category 2 or 3 seating) or 1 Private Dining meal.
Private Dining/Pizza Delivery:
Private in-room dining meals includes an appetizer (guest ages 3-9 only), entrée, nonalcoholic drink, and dessert (lunch & dinner). Breakfast also includes juice. Pizza delivery includes one pizza, two non-alcoholic beverages and two desserts. Gratuities are included. Both are two-credit dining options, although Adult credits only must be used for Pizza delivery.
Gratuities
Gratuities are not included for table service, signature restaurants, and character meals. Gratuities are included for Dinner Shows, Private in-room dining, Pizza Delivery, Cinderella's Royal Table, and Grand Gathering Experiences.
Appetizers Are Included!
While appetizers are not included in Disney's Standard Dining Plan, appetizers are included in Disney's Deluxe Dining Plan
Using Disney's Resort Hotel Deluxe Dining Plan can help guests save a significant amount. Have some fun and play around with the menus on The Mouse For Less website using Disney's Deluxe Dining Plan. You also may want to consider exploring Disney's Quick Service Dining Plan, and Disney's Dining Plan, and Disney's Dining Plan Plus.
Everyone in the room must be on the same package and ticket options. All tickets and options must used within 14 days of first use, unless the No Expiration Option (unused days never expire) is purchased. All tickets and options are nontransferable and exclude activities/events separately priced. All pricing is in U.S. dollars
Request a Free No Obligation Vacation Quote