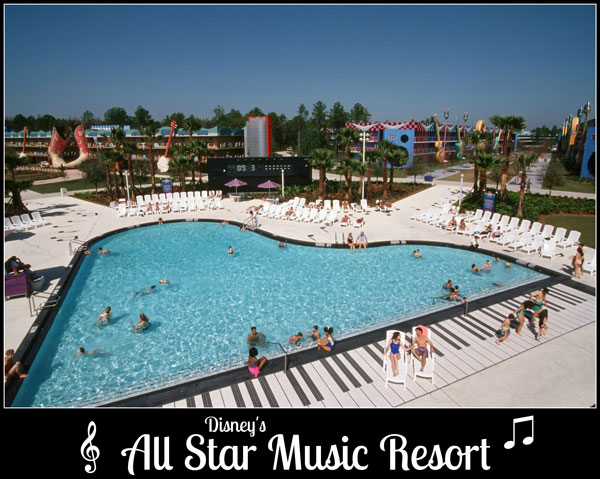 Big on Everything…Except Price
Experience Disney quality at a value price. Unique architecture, specially themed swimming pools and casual food court dining experiences add to the whimsical atmosphere and larger-than-life flair of these fun resorts. Larger-than-life sports, movies and music icons surround the rooms of three large-scale fun resorts and create a whimsical atmosphere that will bring out the kid in everyone.
Overview

Map

Discounts Free Quote
Be a little bit country, a touch of jazz, a Broadway baby, a calypso crooner and a whole lotta rock n' roll. Whether you prefer bolo ties, maracas or a top hat and tap shoes, enjoy all the oversized icons of the song and dance biz at a whimsical Resort with a musical soundtrack for all tastes.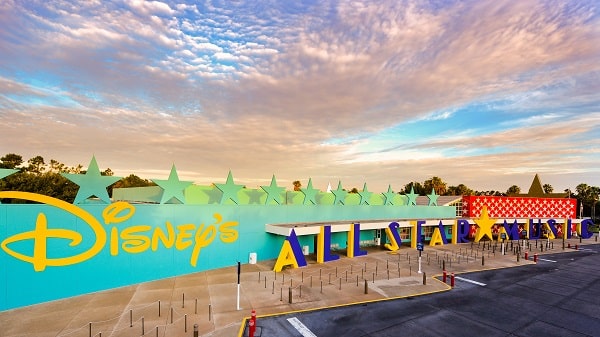 Rooms at Disney's All-Star Music Resort
– 1706 guest rooms
– Disabled accessible rooms available
– All rooms non-smoking
– Guest Rooms have two double beds or one king-size bed, table and chairs, vanity area with sink and a bathroom
– Buildings offer elevators and interior corridors
– Guest Room amenities include Alarm Clock, Beverage Cooler, Hair Dryer, Ice Bucket, In-Room Safe, Iron and Ironing Board, Pool Towels, Table & Chairs, Telephone*, Television, Voice Mail, Wireless Internet.
– Bed Boards/Rails and Pack 'N Play Crib are available for resort guests upon request.
– Standard rooms have a maximum four-person occupancy per room.
* Local, 1-800, collect, credit card and third party calls placed from an in-room Disney Resort Guest telephone do not incur a surcharge. Charges will apply for directory assistance and domestic/international long-distance calls.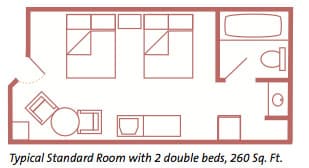 Family Suites
– Family Suites located in the Calypso and Jazz Inn building
– Sleep up to 6 (plus one child under age 3 in a Pack and Play crib)
– Studio amenities and separate sleeping areas give more privacy than a standard room.
– Queen bed, full-size pullout sofa, convertible ottoman & chair sleepers
– Private master bedroom and family room have TV and high-speed internet access.
– Kitchenette with microwave, small refrigerator, and coffee pot
– Two-full bathrooms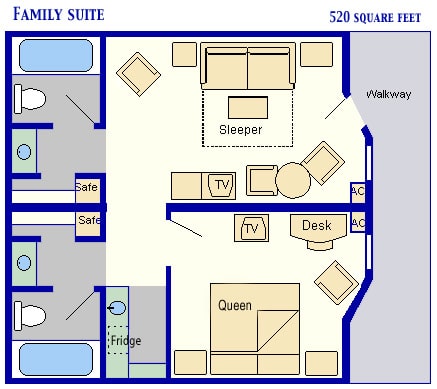 Standard Room Location – Rooms sleep up to 4 adults. Views of the Courtyard, Pool or Parking Area. 2 Double Beds
Preferred Room Location – Rooms sleep up to 4 adults. Views of the Courtyard, Pool or Parking Area. 2 Double Beds
Dining Disney's All-Star Music Resort
– Food Court – Intermission Food Court
– Pool Bar
– Pizza delivery: 4 pm to midnight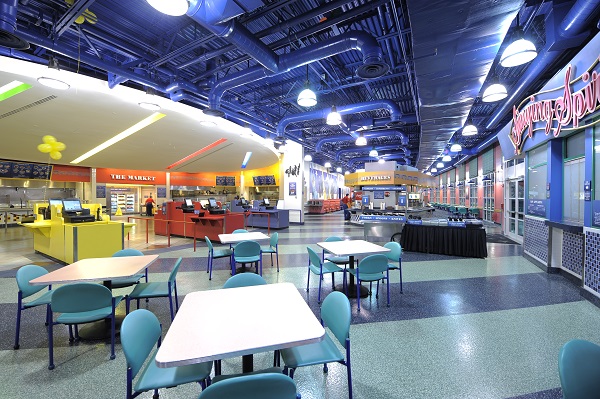 Disney's All-Star Music Resort Recreation
– 2 Pools
Feature Pool: Calypso theme
– Child water play area
– Arcade
– Children's playground
Transportation
– Disney Theme Parks
– Disney Water Parks
– Disney Springs
– Disney Resort Hotels*
*Requires one transfer at a Disney Theme Park
Other Services
– Disney Resort Benefits
– Merchandise location (gifts, sundries)
– Self service laundry facilities
Address:
Disney's All Star Music Resort
1801 West Buena Vista Drive
Lake Buena Vista, Florida 32830-1000
Check In: 3:00 PM
Check Out: 11:00 AM
Disney's All-Star Music Resort Rates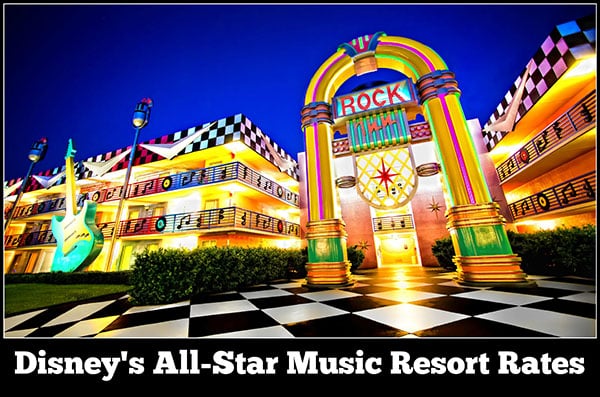 Room rates listed below for Disney's All-Star Music Resort exclude all applicable taxes.
Visit our Discounts page to see what offers might be available during your stay or request a free quote from one of our travel counselors.
2021 Disney's All-Star Music Resort Rates
Prices below do not include 13.5% tax. Rates are subject to change
March 2021
March 1-3, 2021
Standard Room – Sleeps 4 – $143
Preferred Room – Sleeps 4 – $174
Family Suite – Sleeps 6 – $335
March 4, 2021
Standard Room – Sleeps 4 – $154
Preferred Room – Sleeps 4 – $186
Family Suite – Sleeps 6 – $347
March 5-6, 2021
Standard Room – Sleeps 4 – $211
Preferred Room – Sleeps 4 – $228
Family Suite – Sleeps 6 – $436
March 7, 2021
Standard Room – Sleeps 4 – $182
Preferred Room – Sleeps 4 – $203
Family Suite – Sleeps 6 – $389
March 8-10, 2021
Standard Room – Sleeps 4 – $170
Preferred Room – Sleeps 4 – $191
Family Suite – Sleeps 6 – $378
March 11, 2021
Standard Room – Sleeps 4 – $182
Preferred Room – Sleeps 4 – $203
Family Suite – Sleeps 6 – $389
March 12-13, 2021
Standard Room – Sleeps 4 – $211
Preferred Room – Sleeps 4 – $228
Family Suite – Sleeps 6 – $436
March 14, 2021
Standard Room – Sleeps 4 – $182
Preferred Room – Sleeps 4 – $203
Family Suite – Sleeps 6 – $389
March 15-17, 2021
Standard Room – Sleeps 4 – $170
Preferred Room – Sleeps 4 – $191
Family Suite – Sleeps 6 – $378
March 18, 2021
Standard Room – Sleeps 4 – $182
Preferred Room – Sleeps 4 – $203
Family Suite – Sleeps 6 – $389
March 19-20, 2021
Standard Room – Sleeps 4 – $211
Preferred Room – Sleeps 4 – $228
Family Suite – Sleeps 6 – $436
March 21, 2021
Standard Room – Sleeps 4 – $182
Preferred Room – Sleeps 4 – $203
Family Suite – Sleeps 6 – $389
March 22-24, 2021
Standard Room – Sleeps 4 – $170
Preferred Room – Sleeps 4 – $191
Family Suite – Sleeps 6 – $378
March 25, 2021
Standard Room – Sleeps 4 – $182
Preferred Room – Sleeps 4 – $203
Family Suite – Sleeps 6 – $389
March 26-27, 2021
Standard Room – Sleeps 4 – $211
Preferred Room – Sleeps 4 – $228
Family Suite – Sleeps 6 – $436
March 28-31, 2021
Standard Room – Sleeps 4 – $212
Preferred Room – Sleeps 4 – $229
Family Suite – Sleeps 6 – $456
April 2021
April 1-10, 2021
Standard Room – Sleeps 4 – $212
Preferred Room – Sleeps 4 – $229
Family Suite – Sleeps 6 – $456
April 11, 2021
Standard Room – Sleeps 4 – $182
Preferred Room – Sleeps 4 – $203
Family Suite – Sleeps 6 – $389
April 12-14, 2021
Standard Room – Sleeps 4 – $170
Preferred Room – Sleeps 4 – $191
Family Suite – Sleeps 6 – $378
April 15-17, 2021
Standard Room – Sleeps 4 – $198
Preferred Room – Sleeps 4 – $223
Family Suite – Sleeps 6 – $389
April 18, 2021
Standard Room – Sleeps 4 – $152
Preferred Room – Sleeps 4 – $185
Family Suite – Sleeps 6 – $344
April 19-21, 2021
Standard Room – Sleeps 4 – $139
Preferred Room – Sleeps 4 – $174
Family Suite – Sleeps 6 – $333
April 22, 2021
Standard Room – Sleeps 4 – $152
Preferred Room – Sleeps 4 – $185
Family Suite – Sleeps 6 – $344
April 23-24, 2021
Standard Room – Sleeps 4 – $189
Preferred Room – Sleeps 4 – $213
Family Suite – Sleeps 6 – $372
April 25, 2021
Standard Room – Sleeps 4 – $152
Preferred Room – Sleeps 4 – $185
Family Suite – Sleeps 6 – $344
April 26-28, 2021
Standard Room – Sleeps 4 – $139
Preferred Room – Sleeps 4 – $174
Family Suite – Sleeps 6 – $333
April 29, 2021
Standard Room – Sleeps 4 – $152
Preferred Room – Sleeps 4 – $185
Family Suite – Sleeps 6 – $344
April 30, 2021
Standard Room – Sleeps 4 – $189
Preferred Room – Sleeps 4 – $213
Family Suite – Sleeps 6 – $372
May 2021
May 1, 2021
Standard Room – Sleeps 4 – $189
Preferred Room – Sleeps 4 – $213
Family Suite – Sleeps 6 – $372
May 2, 2021
Standard Room – Sleeps 4 – $152
Preferred Room – Sleeps 4 – $185
Family Suite – Sleeps 6 – $344
May 3-5, 2021
Standard Room – Sleeps 4 – $139
Preferred Room – Sleeps 4 – $174
Family Suite – Sleeps 6 – $333
May 6, 2021
Standard Room – Sleeps 4 – $152
Preferred Room – Sleeps 4 – $185
Family Suite – Sleeps 6 – $344
May 7-8, 2021
Standard Room – Sleeps 4 – $189
Preferred Room – Sleeps 4 – $213
Family Suite – Sleeps 6 – $372
May 9, 2021
Standard Room – Sleeps 4 – $152
Preferred Room – Sleeps 4 – $185
Family Suite – Sleeps 6 – $344
May 10-12, 2021
Standard Room – Sleeps 4 – $139
Preferred Room – Sleeps 4 – $174
Family Suite – Sleeps 6 – $333
May 13, 2021
Standard Room – Sleeps 4 – $152
Preferred Room – Sleeps 4 – $185
Family Suite – Sleeps 6 – $344
May 14-15, 2021
Standard Room – Sleeps 4 – $189
Preferred Room – Sleeps 4 – $213
Family Suite – Sleeps 6 – $372
May 16, 2021
Standard Room – Sleeps 4 – $157
Preferred Room – Sleeps 4 – $177
Family Suite – Sleeps 6 – $344
May 17-19, 2021
Standard Room – Sleeps 4 – $139
Preferred Room – Sleeps 4 – $174
Family Suite – Sleeps 6 – $333
May 20, 2021
Standard Room – Sleeps 4 – $152
Preferred Room – Sleeps 4 – $185
Family Suite – Sleeps 6 – $344
May 21-22, 2021
Standard Room – Sleeps 4 – $189
Preferred Room – Sleeps 4 – $213
Family Suite – Sleeps 6 – $372
May 23, 2021
Standard Room – Sleeps 4 – $152
Preferred Room – Sleeps 4 – $185
Family Suite – Sleeps 6 – $344
May 24-26, 2021
Standard Room – Sleeps 4 – $139
Preferred Room – Sleeps 4 – $174
Family Suite – Sleeps 6 – $333
May 27, 2021
Standard Room – Sleeps 4 – $152
Preferred Room – Sleeps 4 – $185
Family Suite – Sleeps 6 – $344
May 28-30, 2021
Standard Room – Sleeps 4 – $189
Preferred Room – Sleeps 4 – $213
Family Suite – Sleeps 6 – $401
May 31, 2021
Standard Room – Sleeps 4 – $163
Preferred Room – Sleeps 4 – $182
Family Suite – Sleeps 6 – $162
June 2021
June 1, 2021
Standard Room – Sleeps 4 – $163
Preferred Room – Sleeps 4 – $182
Family Suite – Sleeps 6 – $362
June 2, 2021
Standard Room – Sleeps 4 – $154
Preferred Room – Sleeps 4 – $191
Family Suite – Sleeps 6 – $362
June 3, 2021
Standard Room – Sleeps 4 – $163
Preferred Room – Sleeps 4 – $182
Family Suite – Sleeps 6 – $362
June 4-5, 2021
Standard Room – Sleeps 4 – $193
Preferred Room – Sleeps 4 – $212
Family Suite – Sleeps 6 – $444
June 6-10, 2021
Standard Room – Sleeps 4 – $163
Preferred Room – Sleeps 4 – $182
Family Suite – Sleeps 6 – $362
June 11-12, 2021
Standard Room – Sleeps 4 – $193
Preferred Room – Sleeps 4 – $212
Family Suite – Sleeps 6 – $422
June 13-17, 2021
Standard Room – Sleeps 4 – $163
Preferred Room – Sleeps 4 – $182
Family Suite – Sleeps 6 – $362
June 18-19, 2021
Standard Room – Sleeps 4 – $193
Preferred Room – Sleeps 4 – $212
Family Suite – Sleeps 6 – $422
June 20-24, 2021
Standard Room – Sleeps 4 – $163
Preferred Room – Sleeps 4 – $182
Family Suite – Sleeps 6 – $362
June 25-26, 2021
Standard Room – Sleeps 4 – $173
Preferred Room – Sleeps 4 – $218
Family Suite – Sleeps 6 – $403
June 27, 2021
Standard Room – Sleeps 4 – $163
Preferred Room – Sleeps 4 – $182
Family Suite – Sleeps 6 – $362
June 28, 2021
Standard Room – Sleeps 4 – $154
Preferred Room – Sleeps 4 – $191
Family Suite – Sleeps 6 – $362
June 29-30, 2021
Standard Room – Sleeps 4 – $163
Preferred Room – Sleeps 4 – $182
Family Suite – Sleeps 6 – $362
July 2021
July 1, 2021
Standard Room – Sleeps 4 – $163
Preferred Room – Sleeps 4 – $182
Family Suite – Sleeps 6 – $362
July 2-4, 2021
Standard Room – Sleeps 4 – $203
Preferred Room – Sleeps 4 – $223
Family Suite – Sleeps 6 – $444
July 5-8, 2021
Standard Room – Sleeps 4 – $163
Preferred Room – Sleeps 4 – $182
Family Suite – Sleeps 6 – $362
July 9-10, 2021
Standard Room – Sleeps 4 – $193
Preferred Room – Sleeps 4 – $212
Family Suite – Sleeps 6 – $422
July 11-15, 2021
Standard Room – Sleeps 4 – $163
Preferred Room – Sleeps 4 – $182
Family Suite – Sleeps 6 – $362
July 16-17, 2021
Standard Room – Sleeps 4 – $193
Preferred Room – Sleeps 4 – $212
Family Suite – Sleeps 6 – $422
July 18-21, 2021
Standard Room – Sleeps 4 – $163
Preferred Room – Sleeps 4 – $182
Family Suite – Sleeps 6 – $362
July 22, 2021
Standard Room – Sleeps 4 – $168
Preferred Room – Sleeps 4 – $175
Family Suite – Sleeps 6 – $362
July 23-24, 2021
Standard Room – Sleeps 4 – $193
Preferred Room – Sleeps 4 – $212
Family Suite – Sleeps 6 – $422
July 25-26, 2021
Standard Room – Sleeps 4 – $163
Preferred Room – Sleeps 4 – $182
Family Suite – Sleeps 6 – $362
July 27, 2021
Standard Room – Sleeps 4 – $154
Preferred Room – Sleeps 4 – $191
Family Suite – Sleeps 6 – $362
July 28-29, 2021
Standard Room – Sleeps 4 – $163
Preferred Room – Sleeps 4 – $182
Family Suite – Sleeps 6 – $362
July 30-31, 2021
Standard Room – Sleeps 4 – $193
Preferred Room – Sleeps 4 – $212
Family Suite – Sleeps 6 – $422
August 2021
August 1-3, 2021
Standard Room – Sleeps 4 – $163
Preferred Room – Sleeps 4 – $182
Family Suite – Sleeps 6 – $362
August 4, 2021
Standard Room – Sleeps 4 – $168
Preferred Room – Sleeps 4 – $175
Family Suite – Sleeps 6 – $362
August 5, 2021
Standard Room – Sleeps 4 – $163
Preferred Room – Sleeps 4 – $182
Family Suite – Sleeps 6 – $362
August 6-7, 2021
Standard Room – Sleeps 4 – $193
Preferred Room – Sleeps 4 – $212
Family Suite – Sleeps 6 – $422
August 8, 2021
Standard Room – Sleeps 4 – $151
Preferred Room – Sleeps 4 – $185
Family Suite – Sleeps 6 – $345
August 9-11, 2021
Standard Room – Sleeps 4 – $140
Preferred Room – Sleeps 4 – $174
Family Suite – Sleeps 6 – $335
August 12, 2021
Standard Room – Sleeps 4 – $143
Preferred Room – Sleeps 4 – $194
Family Suite – Sleeps 6 – $345
August 13-14, 2021
Standard Room – Sleeps 4 – $181
Preferred Room – Sleeps 4 – $210
Family Suite – Sleeps 6 – $369
August 15, 2021
Standard Room – Sleeps 4 – $151
Preferred Room – Sleeps 4 – $185
Family Suite – Sleeps 6 – $345
August 16, 2021
Standard Room – Sleeps 4 – $140
Preferred Room – Sleeps 4 – $174
Family Suite – Sleeps 6 – $335
August 17-18, 2021
Standard Room – Sleeps 4 – $140
Preferred Room – Sleeps 4 – $174
Family Suite – Sleeps 6 – $335
August 19, 2021
Standard Room – Sleeps 4 – $151
Preferred Room – Sleeps 4 – $185
Family Suite – Sleeps 6 – $345
August 20-21, 2021
Standard Room – Sleeps 4 – $181
Preferred Room – Sleeps 4 – $210
Family Suite – Sleeps 6 – $369
August 22, 2021
Standard Room – Sleeps 4 – $136
Preferred Room – Sleeps 4 – $163
Family Suite – Sleeps 6 – $293
August 23-25, 2021
Standard Room – Sleeps 4 – $124
Preferred Room – Sleeps 4 – $153
Family Suite – Sleeps 6 – $284
August 26, 2021
Standard Room – Sleeps 4 – $136
Preferred Room – Sleeps 4 – $163
Family Suite – Sleeps 6 – $293
August 27-28, 2021
Standard Room – Sleeps 4 – $152
Preferred Room – Sleeps 4 – $177
Family Suite – Sleeps 6 – $338
August 29, 2021
Standard Room – Sleeps 4 – $129
Preferred Room – Sleeps 4 – $170
Family Suite – Sleeps 6 – $293
August 30-31, 2021
Standard Room – Sleeps 4 – $124
Preferred Room – Sleeps 4 – $153
Family Suite – Sleeps 6 – $284
September 2021
September 1, 2021
Standard Room – Sleeps 4 – $124
Preferred Room – Sleeps 4 – $153
Family Suite – Sleeps 6 – $284
September 2, 2021
Standard Room – Sleeps 4 – $136
Preferred Room – Sleeps 4 – $163
Family Suite – Sleeps 6 – $293
September 3-5, 2021
Standard Room – Sleeps 4 – $168
Preferred Room – Sleeps 4 – $196
Family Suite – Sleeps 6 – $374
September 6, 2021
Standard Room – Sleeps 4 – $124
Preferred Room – Sleeps 4 – $153
Family Suite – Sleeps 6 – $284
September 7, 2021
Standard Room – Sleeps 4 – $128
Preferred Room – Sleeps 4 – $146
Family Suite – Sleeps 6 – $284
September 8, 2021
Standard Room – Sleeps 4 – $124
Preferred Room – Sleeps 4 – $153
Family Suite – Sleeps 6 – $284
September 9, 2021
Standard Room – Sleeps 4 – $136
Preferred Room – Sleeps 4 – $163
Family Suite – Sleeps 6 – $293
September 10-11, 2021
Standard Room – Sleeps 4 – $152
Preferred Room – Sleeps 4 – $177
Family Suite – Sleeps 6 – $338
September 12, 2021
Standard Room – Sleeps 4 – $155
Preferred Room – Sleeps 4 – $189
Family Suite – Sleeps 6 – $351
September 13-15, 2021
Standard Room – Sleeps 4 – $147
Preferred Room – Sleeps 4 – $181
Family Suite – Sleeps 6 – $343
September 16, 2021
Standard Room – Sleeps 4 – $155
Preferred Room – Sleeps 4 – $189
Family Suite – Sleeps 6 – $351
September 17-18, 2021
Standard Room – Sleeps 4 – $192
Preferred Room – Sleeps 4 – $214
Family Suite – Sleeps 6 – $379
September 19, 2021
Standard Room – Sleeps 4 – $155
Preferred Room – Sleeps 4 – $189
Family Suite – Sleeps 6 – $351
September 20-22, 2021
Standard Room – Sleeps 4 – $147
Preferred Room – Sleeps 4 – $181
Family Suite – Sleeps 6 – $343
September 23, 2021
Standard Room – Sleeps 4 – $155
Preferred Room – Sleeps 4 – $189
Family Suite – Sleeps 6 – $351
September 24-25, 2021
Standard Room – Sleeps 4 – $192
Preferred Room – Sleeps 4 – $214
Family Suite – Sleeps 6 – $379
September 26, 2021
Standard Room – Sleeps 4 – $155
Preferred Room – Sleeps 4 – $189
Family Suite – Sleeps 6 – $351
September 27-29, 2021
Standard Room – Sleeps 4 – $147
Preferred Room – Sleeps 4 – $181
Family Suite – Sleeps 6 – $343
September 30, 2021
Standard Room – Sleeps 4 – $155
Preferred Room – Sleeps 4 – $189
Family Suite – Sleeps 6 – $351
October 2021
October 1-2, 2021
Standard Room – Sleeps 4 – $206
Preferred Room – Sleeps 4 – $230
Family Suite – Sleeps 6 – $407
October 3, 2021
Standard Room – Sleeps 4 – $158
Preferred Room – Sleeps 4 – $193
Family Suite – Sleeps 6 – $357
October 4-6, 2021
Standard Room – Sleeps 4 – $151
Preferred Room – Sleeps 4 – $186
Family Suite – Sleeps 6 – $351
October 7, 2021
Standard Room – Sleeps 4 – $158
Preferred Room – Sleeps 4 – $193
Family Suite – Sleeps 6 – $357
October 8-10, 2021
Standard Room – Sleeps 4 – $196
Preferred Room – Sleeps 4 – $218
Family Suite – Sleeps 6 – $418
October 11-13, 2021
Standard Room – Sleeps 4 – $151
Preferred Room – Sleeps 4 – $186
Family Suite – Sleeps 6 – $351
October 14, 2021
Standard Room – Sleeps 4 – $158
Preferred Room – Sleeps 4 – $193
Family Suite – Sleeps 6 – $357
October 15-16, 2021
Standard Room – Sleeps 4 – $196
Preferred Room – Sleeps 4 – $218
Family Suite – Sleeps 6 – $386
October 17, 2021
Standard Room – Sleeps 4 – $158
Preferred Room – Sleeps 4 – $193
Family Suite – Sleeps 6 – $357
October 18-20, 2021
Standard Room – Sleeps 4 – $151
Preferred Room – Sleeps 4 – $186
Family Suite – Sleeps 6 – $351
October 21, 2021
Standard Room – Sleeps 4 – $158
Preferred Room – Sleeps 4 – $193
Family Suite – Sleeps 6 – $357
October 22-23, 2021
Standard Room – Sleeps 4 – $196
Preferred Room – Sleeps 4 – $218
Family Suite – Sleeps 6 – $386
October 24, 2021
Standard Room – Sleeps 4 – $143
Preferred Room – Sleeps 4 – $176
Family Suite – Sleeps 6 – $310
October 25-27, 2021
Standard Room – Sleeps 4 – $132
Preferred Room – Sleeps 4 – $165
Family Suite – Sleeps 6 – $297
October 28, 2021
Standard Room – Sleeps 4 – $143
Preferred Room – Sleeps 4 – $176
Family Suite – Sleeps 6 – $310
October 29-30, 2021
Standard Room – Sleeps 4 – $160
Preferred Room – Sleeps 4 – $185
Family Suite – Sleeps 6 – $358
October 31, 2021
Standard Room – Sleeps 4 – $143
Preferred Room – Sleeps 4 – $176
Family Suite – Sleeps 6 – $310
November 2021
November 1-3, 2021
Standard Room – Sleeps 4 – $132
Preferred Room – Sleeps 4 – $165
Family Suite – Sleeps 6 – $358
November 4, 2021
Standard Room – Sleeps 4 – $143
Preferred Room – Sleeps 4 – $176
Family Suite – Sleeps 6 – $310
November 5-6, 2021
Standard Room – Sleeps 4 – $160
Preferred Room – Sleeps 4 – $185
Family Suite – Sleeps 6 – $358
November 7, 2021
Standard Room – Sleeps 4 – $143
Preferred Room – Sleeps 4 – $176
Family Suite – Sleeps 6 – $310
November 8-10, 2021
Standard Room – Sleeps 4 – $132
Preferred Room – Sleeps 4 – $165
Family Suite – Sleeps 6 – $297
November 11, 2021
Standard Room – Sleeps 4 – $143
Preferred Room – Sleeps 4 – $176
Family Suite – Sleeps 6 – $310
November 12-13, 2021
Standard Room – Sleeps 4 – $160
Preferred Room – Sleeps 4 – $185
Family Suite – Sleeps 6 – $358
November 14, 2021
Standard Room – Sleeps 4 – $143
Preferred Room – Sleeps 4 – $176
Family Suite – Sleeps 6 – $310
November 15-17, 2021
Standard Room – Sleeps 4 – $132
Preferred Room – Sleeps 4 – $165
Family Suite – Sleeps 6 – $297
November 18, 2021
Standard Room – Sleeps 4 – $143
Preferred Room – Sleeps 4 – $176
Family Suite – Sleeps 6 – $310
November 19, 2021
Standard Room – Sleeps 4 – $160
Preferred Room – Sleeps 4 – $185
Family Suite – Sleeps 6 – $358
November 20-26, 2021
Standard Room – Sleeps 4 – $179
Preferred Room – Sleeps 4 – $217
Family Suite – Sleeps 6 – $411
November 27, 2021
Standard Room – Sleeps 4 – $160
Preferred Room – Sleeps 4 – $185
Family Suite – Sleeps 6 – $358
November 28, 2021
Standard Room – Sleeps 4 – $143
Preferred Room – Sleeps 4 – $176
Family Suite – Sleeps 6 – $310
November 29-30, 2021
Standard Room – Sleeps 4 – $132
Preferred Room – Sleeps 4 – $165
Family Suite – Sleeps 6 – $297
December 2021
December 1, 2021
Standard Room – Sleeps 4 – $132
Preferred Room – Sleeps 4 – $165
Family Suite – Sleeps 6 – $297
December 2, 2021
Standard Room – Sleeps 4 – $143
Preferred Room – Sleeps 4 – $176
Family Suite – Sleeps 6 – $310
December 3-4, 2021
Standard Room – Sleeps 4 – $173
Preferred Room – Sleeps 4 – $218
Family Suite – Sleeps 6 – $403
December 5-9, 2021
Standard Room – Sleeps 4 – $149
Preferred Room – Sleeps 4 – $187
Family Suite – Sleeps 6 – $345
December 10-11, 2021
Standard Room – Sleeps 4 – $222
Preferred Room – Sleeps 4 – $231
Family Suite – Sleeps 6 – $456
December 12-16, 2021
Standard Room – Sleeps 4 – $179
Preferred Room – Sleeps 4 – $202
Family Suite – Sleeps 6 – $394
December 17-25, 2021
Standard Room – Sleeps 4 – $221
Preferred Room – Sleeps 4 – $253
Family Suite – Sleeps 6 – $506
December 26-31, 2021
Standard Room – Sleeps 4 – $228
Preferred Room – Sleeps 4 – $261
Family Suite – Sleeps 6 – $521