Disney's All-Star Music Resort
1801 West Buena Vista Drive
Lake Buena Vista, Florida 32830-1000
Check-In: 3:00 PM
Check-Out: 11:00 AM
Big on Everything…Except for Price
Welcome to a symphony of enchanting themes and affordable comfort at Disney's All-Star Music Resort! Here, Disney strikes the perfect chord for fun-loving families on a budget, wrapping you in a world where musical genres come to life around every corner. It's not just a getaway; it's a picturesque melody that caters to music lovers of every kind.
Dive into the rhythm, soul, and spirit of different musical influences as you explore Disney's All-Star Music Resort's uniquely designed landscapes. From the heartland of country, the sultry tempo of jazz, the dazzle of Broadway show tunes, to the soothing rhythms of calypso and the electrifying energy of rock 'n' roll, each area is a testament to these musical milestones. Oversized, playful icons from microphones to cowboy boots celebrate the fun and excitement of these genres, providing the perfect backdrop for memorable photos and an immersive stay.
Amidst these melodious settings, Disney's All-Star Music Resort hits a high note with its affordability without skimping on the legendary quality associated with Disney. Disney's All-Star Music Resort's value is music to your ears as you experience all the essential conveniences and touches of magic that make your stay comfortable and exciting.
Disney's All-Star Music Downloadable Map
Guest Rooms
– Disabled accessible rooms available
– All rooms are non-smoking
– Disney's All-Star Music Resort buildings offer elevators and stairs
Rooms
Standard Room Location
Views of the Courtyard, Pool, or Parking Area
Queen Bed 1 and Queen-Size Table Bed 1
Sleeps up to 4 Adults
Preferred Room Location
Views of the Courtyard, Pool, or Parking Area
Close to Melody Hall, Dining, Shopping, and Transportation
Queen Bed 1 and Queen-Size Table Bed 1
Sleeps up to 4 Adults
Amenities
Hair Dryer
In-room safe
Internet – Free WiFi Service
Iron & ironing board
Mini-refrigerator
Telephone with voice mail
Suites
– Family Suites located in the Calypso and Jazz Inn building
– Sleep up to 6 (plus one child under age 3 in a Pack and Play crib)
– Studio amenities and separate sleeping areas give more privacy than a standard room.
– Queen bed, full-size pullout sofa, convertible ottoman & chair sleepers
– Private master bedroom and family room have TV and high-speed internet access.
– Kitchenette with microwave, small refrigerator, and coffee pot
– Two-full bathrooms
Family Suite
Views of the Pool, Courtyard or Parking Area
Queen Bed 1 and Queen-Size Pull Down Bed 2
Sleeps up to 6 Adults
Amenities
MicrowaveCoffee
Coffee Maker
Hair Dryer
2 Full Bathrooms
In-room safe
Internet – Free WiFi Service
Iron & ironing board
Kitchenette
Telephone with voice mail
Dining Disney's All-Star Music Resort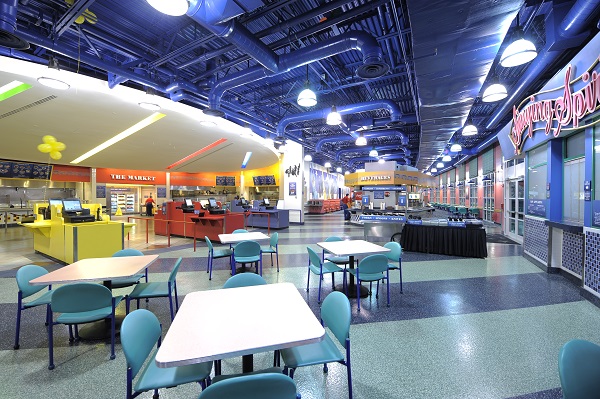 Intermission Food Court
Breakfast, Lunch, Dinner, Late Night
Enjoy a medley of mouthwatering menu options from tasty finger food to hot entrees and desserts.
Intermission Food Court Menu
Singing Spirits Pool Bar
Bar Service
Let the spirit move you with a chorus of specialty cocktails, beers and wines by the Calypso Pool.
Singing Spirits Pool Bar Menu
Disney's All-Star Music Resort Recreation
Pools
At Disney's All-Star Music Resort guests can enjoy a refreshing swim in one of the pools overflowing with fun themes and Disney characters.
Movies Under the Stars
Watch complimentary screenings of Disney films on select nights—located outside, by the Intermission Food Court.
Jogging Trail
March to a different beat with a brisk one-mile jog or walk around Disney's All-Star Resort area.
Playground
Little musical prodigies can swing and slide at the play area located near the Jazz Inn section at Disney's All-Star Music Resort.
Note'able Games Arcade
Fine-tune your gaming skills at this arcade in the Melody Hall building, adjacent to the food court.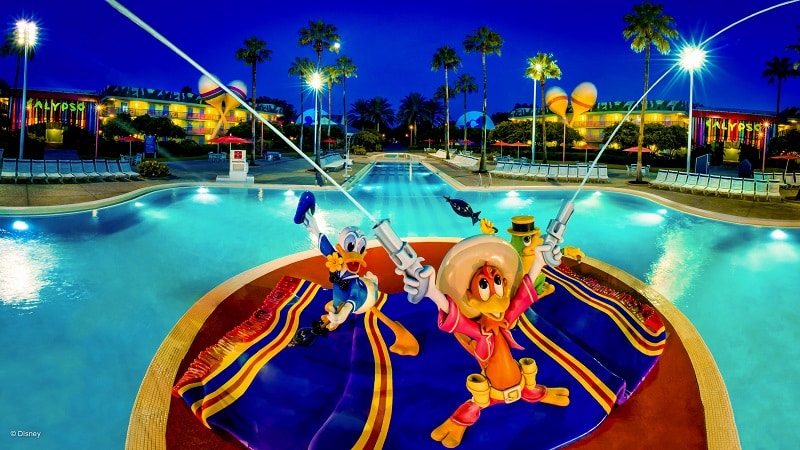 Resort Amenities
Disney Bus Transportation
Complimentary bus transportation is available to transport you and your family to most Walt Disney World Resort areas, including theme parks, water parks, Resort hotels, and the Disney Springs area. The bus stop at Disney's All-Star Music Resort is located in front of Melody Hall.
Disney Minnie Van™ Service Connected by Lyft
Discover a whimsical way to dash about! Getting to select locations around Walt Disney World Resort—or traveling to and from Orlando International Airport—is easy when our private vehicles whisk you off in delightful Disney style. (Additional charges apply.)
Parking
Standard overnight self-parking is available to Disney's All-Star Music Resort registered guests.
Complimentary standard self-parking is available while you enjoy select dining, shopping, entertainment, and recreation experiences at this Resort.
Online Check-In
ATM
A 24-hour ATM is located near the Front Desk.
Currency Exchange
Guests interested in exchanging foreign currencies may visit the Front Desk or Lobby Concierge of this Resort hotel.
Designated Smoking Areas
Housekeeping Service
When you stay at a Disney Resort hotel, enjoy peace of mind knowing that Housekeeping will thoroughly clean your room before your arrival and a modified service every other day.
Laundry and Dry Cleaning Services
24-hour self-service laundry rooms are available near Piano Pool and Calypso Pool. Please select "Housekeeping" on your Guest Room phone for dry cleaning and valet laundry service.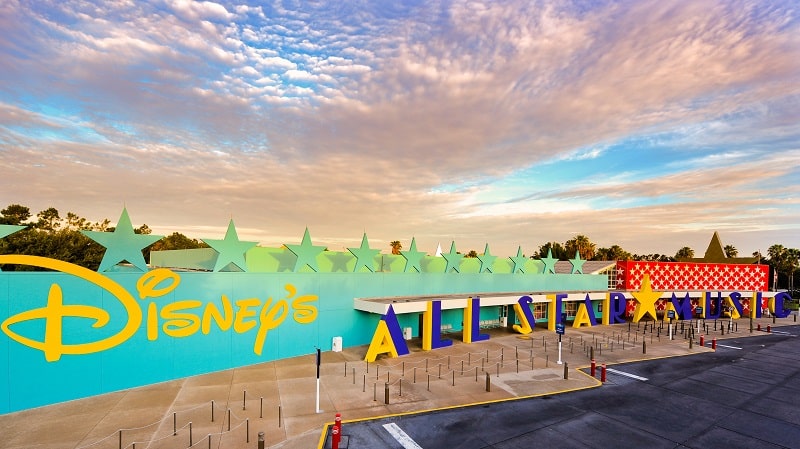 Mail Services
Send and receive mail and packages during your stay at Disney's All-Star Music Resort.
Sending Mail
Letters, postcards, and pre-packed, pre-labeled packages with postage already applied can be mailed at the Front Desk or Concierge Desk.
Locker System for Receiving Packages and Deliveries
Select vendors can drop off certain packages and groceries for Disney's All-Star Music Resort Guests at new locker facilities outside Melody Hall—located near luggage services.
Guests who check in using the Online Check-in service will receive an email notification when packages or grocery items have been delivered to the lockers, with instructions on accessing the locker. The email notification is sent to the email address provided or confirmed when using the Online Check-In service.
Here are some essential things to know about this service:
Both dry-good storage and refrigerated storage are offered, subject to availability.
A $6 per-package handling fee will apply.
Certain items (for example, alcoholic beverages) cannot be delivered to the lockers and must be picked up in-person.
Deliveries are subject to the Disney Resort hotel's policies and may be unavailable, limited, or restricted.
At this time, Guests who do not use the Online Check-In service will continue to be required to pick up packages and groceries at bell services or arrange for in-person delivery with the vendor directly.
Merchandise Delivery and Pickup
Thanks to complimentary merchandise delivery to your Disney Resort hotel, shopping is a breeze at Walt Disney World Resort.
Take advantage of this convenient service—and enjoy the parks without extra baggage! Merchandise delivery is available during your stay at any Disney Resort hotel for purchases made:
In-store at select Walt Disney World shops
Through the Shop Disney Parks mobile app (valid for merchandise in stock at Walt Disney World Resort)
Pickup Location
When staying at Disney's All-Star Music Resort, you can arrange to have your merchandise delivered to Maestro Mickey's, where it will be available for pickup later.
Rates and Packages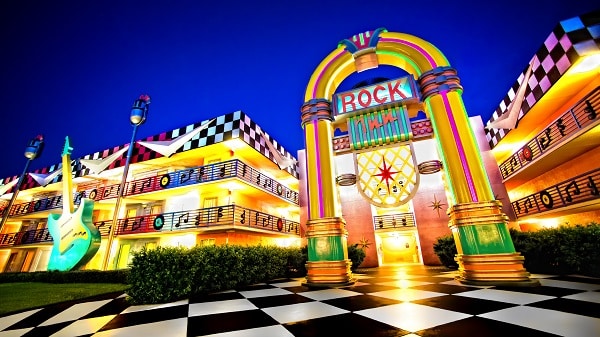 Standard rooms at Disney's All-Star Music Resort will sleep up to four guests in two double beds or 2 guests in a King bed.
An additional adult charge of $15 per night applies when there are over two adults in a room at Disney's All-Star Music Resort. Prices, benefits, and other terms are subject to change without notice.
Disney frequently provides special offers and packages, including discounted rates on rooms at Disney's All-Star Music Resort. These discounts may be available for specific travel periods or with other park-related experiences or dining options. The Magic For Less Travel will watch for discounts and promotions that can be applied to your reservation even after you book.
Disney offers packages that include a stay at Disney's All-Star Music Resort, as well as tickets to the theme parks, dining, and other activities. Packages vary in price and content, so it is important to compare different options.
2024 Walt Disney World Resort Hotel Packages
Free Quote
Use the form below to request a FREE, No-Obligation Quote from one of our travel agents. Our services are provided FREE of charge. You won't pay more when you book with The Magic For Less Travel.  Start planning your Walt Disney World Resort vacation today!
Newsletter
Stay informed of the latest special offers. Subscribe to the Magical Notifications weekly newsletter from our friends at The Mouse For Less.
NOTE: After subscribing, you will receive an e-mail asking you to confirm your subscription. This is a standard security feature. Follow the instructions in the confirmation e-mail to complete your subscription.