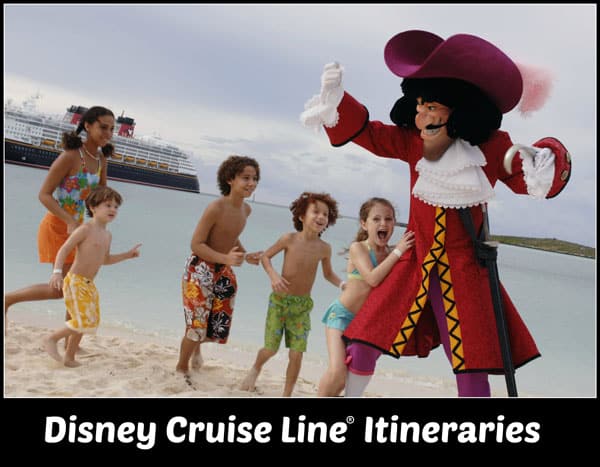 Disney Cruise Line® has selected the most stunning destinations in the most exciting regions around the world for cruises you and your family will not soon forget. Enjoy the service and expertise of Disney Cruise Line's® dedicated crew as they guide you in your exploration of amazing ports of call, from the Caribbean to Alaska and Europe. Discover, in detail, the world of delights waiting for you.
Bahamian Cruises Caribbean Cruises Alaskan & Pacific Coast European Canadian Coast Cruises Mexican Cruises Panama Canal, Transatlantic & Hawaii
Ports of call in the Bahamas offered by Disney Cruise Line® make for a vacation of consummate leisure and delight. Tropical weather blankets this sun-drenched region, where the recreation is renowned and the landscapes are breathtaking. From the beaches of Nassau to the idyllic resort of Castaway Cay, each port offers a warm island welcome you won't soon forget.
Glittering waters, invigorating recreation and shopping at deep discounts await you in the cities of the Caribbean – from Mexico's Cozumel to the island of St. Thomas… and everywhere in between. Soak up the sun on Grand Cayman's Seven Mile Beach, find bargains on luxury goods in the Virgin Islands or immerse yourself in the rich blend of cultures of Barbados or Jamaica. The possibilities for real Caribbean bliss are endless.
Experience breathtaking vistas, an abundance of wildlife plus the rich history of Alaska's native culture. Combine the natural wonder and adventurous spirit with an unparalleled, family-friendly experience. On board, delight in the "Disney Difference," where outstanding personal service and world-renowned entertainment surround you at every turn – creating a vacation your entire family will surely never forget.
Voyage to a region that conjures up a romantic past, home to some of the world's oldest civilizations, trade routes and cultures. The Mediterranean region shares mild climes, wide open skies and the brilliant blue Mediterranean Sea. It also boasts a rich diversity of cities, cultures and people.
From the comfort of a Disney cruise, experience a relaxing voyage in and across the world's two largest oceans. Aboard your classically designed Disney ship, take a journey that echoes the grandeur of ocean crossings in the golden age of sea travel. Navigate through the Panama Canal, take a sweeping journey across the majestic Atlantic or experience the breathtaking beauty of the Pacific Coast while visiting unique ports of call along the way. Add exclusive Disney entertainment, signature service, fantastic dining and world-class recreation and you're bound to discover a vacation that holds incredible fun for the whole family.