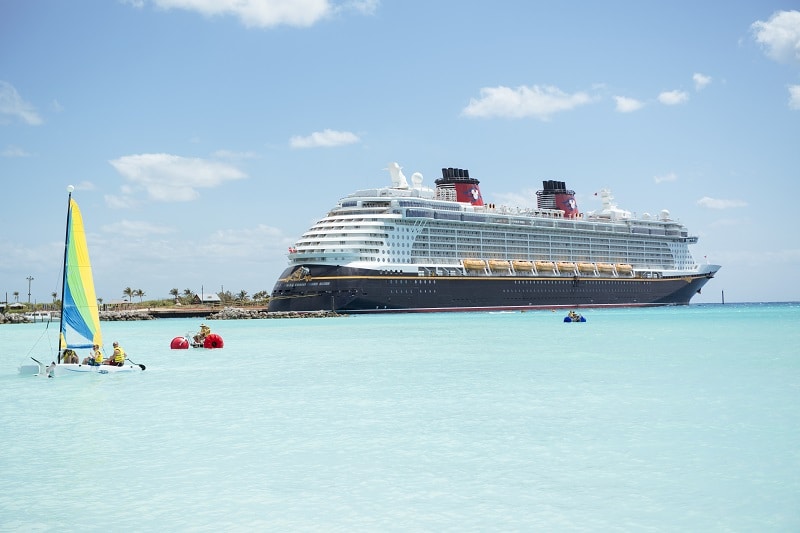 The Disney Fantasy is a spectacular cruise ship in the Disney Cruise Line fleet. It first set sail in 2012 and has been wowing guests with its luxurious features and impeccable service ever since. The ship is known for its Art Nouveau-inspired decor, with stunning details and artwork throughout the interior spaces. The Disney Fantasy can accommodate up to 4,000 passengers and has a crew of 1,458, ensuring that guests receive top-notch service throughout their journey. In addition, the ship offers a range of onboard experiences, including live shows, dining options, youth clubs, and exciting activities for all ages. With its spacious staterooms, world-class amenities, and attention to detail, the Disney Fantasy is the perfect choice for a magical and unforgettable cruise vacation.
Dining
Indulge in a magical dining experience onboard the Disney Fantasy, where a diverse array of culinary delights await you, catering to all tastes and preferences. With a multitude of options to choose from aboard the Disney Fantasy, there is something for everyone on this floating paradise. Whether it's a casual family meal or an intimate dinner for two, you're sure to find a restaurant that meets your needs and exceeds your expectations.
Main Dining
Experience a unique dinner show, Animation Magic, at Animator's Palate and be enchanted by the magic of animation. Indulge in a delightful dining experience at Enchanted Garden, where the surroundings transport you to a fairy tale setting. Finally, for a royal feast inspired by the enchanting world of Disney, head to Royal Court and dine like a king in a grand dining room. These three dining options on the Disney Fantasy are not to be missed.
It's important to note that dining on the Disney Fantasy is rotational, which means that guests rotate through the main dining rooms during their stay, ensuring that they have a chance to experience all three. Guests can also request special dietary accommodations, such as vegetarian, kosher, and gluten-free options.
Casual Dining
On the Disney Fantasy, enjoy a quick lunch at Flo's Café, and then indulge in a sweet treat at Eye Scream and Frozone Treats. Even late-night cravings can be satisfied with complimentary 24-hour in-room dining. So whether you're looking for a quick bite, a sweet snack, or a late-night feast, Disney Fantasy has got you covered.
Adult-Exclusive Dining
Looking for a romantic evening on the high seas? Look no further than the Disney Fantasy, where stunning sunsets set the stage for an unforgettable experience. Choose from two gourmet restaurants: Palo, where you can savor Northern Italian cuisine in an elegant atmosphere, or Remy, which offers intimate French dining and a dedicated wine room. Whether you're celebrating a special occasion or simply enjoying a date night, the Disney Fantasy is the perfect setting for a truly magical evening.
Disney Fantasy Fun Facts
The Disney Fantasy is the fourth ship in the Disney Cruise Line fleet, joining the Disney Magic (maiden voyage in 1998), the Disney Wonder (maiden voyage in 1999) and the Disney Dream (maiden voyage in 2011).
Birthplace
Meyer Werft – Papenburg, Germany
Maiden Voyage
March 31, 2012
Home Port
Port Canaveral, Fla.
Ship's Registry
Bahamas
Tonnage
130,000 gross tons
Length
1,115 feet
Beam
121 feet
Draft
28 feet
Height
216 feet
Speed
22 knots cruising speed (maximum 23.5 knots)
Crew
1,458
Passenger Decks
14
Capacity
4,000 passengers
Staterooms
1,250
150 Inside Staterooms (12%)
1,100 Outside Staterooms (88%)

199 ocean view

901 verandah (includes 21 suites)
Main Public Areas
Atrium Lobby – Deck 3 (atrium spans three decks)
Walt Disney Theatre (1,340 capacity; live original productions) – Decks 3 and 4
Buena Vista Theatre (399 capacity; motion pictures) – Decks 4 and 5
Preludes theatre concessions – Deck 3
Bon Voyage atrium lobby bar – Deck 3
Vista Café – Deck 4
Shutters (Capturing Memories) photo gallery – Deck 4
Tiffany & Co. – Deck 4
Guest Services – Deck 3
Port Adventures – Deck 5
Family Areas
D Lounge – Deck 4
AquaDuck water coaster – entrance on Deck 12
AquaLab water play area – Deck 12
Bibbidi Bobbidi Boutique – Deck 5
Goofy's Sports deck – Deck 13
Donald's Pool – Deck 11
Mickey's Pool – Deck 11
Nemo's Reef water-play area – Deck 11
Mickey's Mainsail, Sea Treasures, White Caps retail shops – Deck 3
Whozits & Whatzits retail shop – Deck 11
Youth Areas
It's a Small World Nursery – Deck 5
Disney's Oceaneer Club – Deck 5
Disney's Oceaneer Lab – Deck 5
Vibe teen club – Deck 5
Edge tween club – Deck 13
Adult Areas
Europa – Deck 4

Skyline
Ooh La La
The Tube
La Piazza
O'Gills Pub

Senses Spa & Salon – Deck 11
Quiet Cove Pool – Deck 11
Satellite Sun Deck – Deck 13
Cove Bar – Deck 11
Cove Café – Deck 11
Meridian bar – Deck 12
Waves bar – Deck 12
Currents bar – Deck 13
Dining
Enchanted Garden main dining (696 capacity) – Deck 2
Animator's Palate main dining (696 capacity) – Deck 3
Royal Court main dining (696 capacity) – Deck 3
Remy adult-exclusive fine dining (68 capacity) – Deck 12
Palo adult-exclusive fine dining (128 inside / 16 outside capacity) – Deck 12
Cabanas casual dining – Deck 11
Flo's Café: Luigi's Pizza, Tow Mater's Grill, Fillmore's Favorites quick service – Deck 11
Eye Scream ice cream – Deck 11
Frozone Treats smoothies – Deck 11
Sweet on You ice cream shop – Deck 11
Start planning your Disney Cruise Line vacation!
Request a FREE, No-Obligation Quote from one of our travel agents. Our services are provided FREE of charge. You won't pay more when you book with us. Start planning your Disney Cruise Line vacation today!
If you would like to request a quote for another destination, click here.
Discover More about the Disney Cruise Line
We've included links to other areas of our website where you can find more information on Disney Cruise Line and its exciting features.