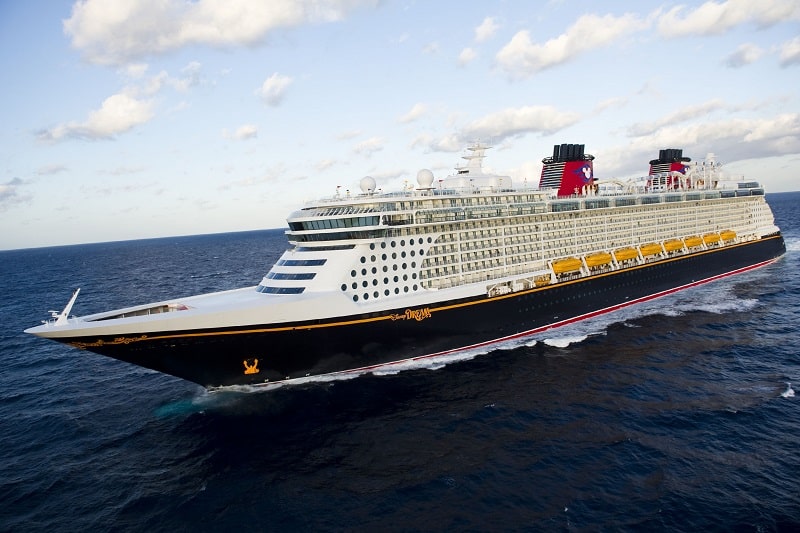 The Disney Dream is a stunning Disney Cruise Line fleet cruise ship. It set sail in 2011 and has since delighted guests with its innovative features and unparalleled service. The ship is known for its Art Deco decor, with stunning details and artwork throughout the interior spaces. The Disney Dream can accommodate up to 4,000 passengers and has a crew of 1,458, ensuring that guests receive top-notch service throughout their journey. In addition, the ship offers a range of onboard experiences, including live shows, dining options, youth clubs, and exciting activities for all ages. With its luxurious accommodations and world-class amenities, the Disney Dream is the perfect choice for a magical and unforgettable cruise vacation.
Dining
Dining on the Disney Dream is a truly magical experience. With three main dining rooms, a variety of casual dining options, and several specialty restaurants, there is something for everyone to enjoy.
Main Dining
Animator's Palate, Enchanted Garden, and Royal Palace are the three main dining rooms onboard Disney Dream. One of the standout restaurants on the ship is Animator's Palate, a family-friendly restaurant that features a unique dining experience. As you dine, you will watch the restaurant walls transform into an underwater world with characters from Finding Nemo and Finding Dory. Enchanted Garden is another must-visit restaurant, with its elegant garden setting that transforms throughout the meal. Finally, Royal Palace where guests can dine in a regal and elegant setting inspired by classic Disney princesses.
It's important to note that dining on the Disney Dream is rotational, which means that guests rotate through the main dining rooms during their stay, ensuring that they have a chance to experience all three. Guests can also request special dietary accommodations, such as vegetarian, kosher, and gluten-free options.
Casual Dining
In addition to the three main dining rooms, there are a variety of casual dining options on the Disney Dream. Cabanas is a buffet-style restaurant that offers a wide variety of food options, including breakfast, lunch, and dinner. Flo's Cafe is a quick-service restaurant that offers burgers, fries, and other American fare. At Eye Scream, you can chill with delicious soft-serve ice cream ice-cream. Complimentary in-room dining is available around the clock, so you can always snag a bite to eat if you get hungry in between meals.
Adult-Exclusive Dining
Are you seeking a romantic, adults-only evening out? Look no further than the Disney Dream's dining options. At Palo, you can savor Northern Italian delicacies with a modern twist while surrounded by Italian-inspired decor, live music, and breathtaking sea views. For an even more luxurious experience, try Remy, which boasts a French-inspired menu featuring superior, seasonal ingredients. Both restaurants offer a truly unforgettable dining experience.
No matter your taste, you will surely find something to enjoy when dining on the Disney Dream. With so many options to choose from, you are sure to have a magical dining experience.
Onboard Experiences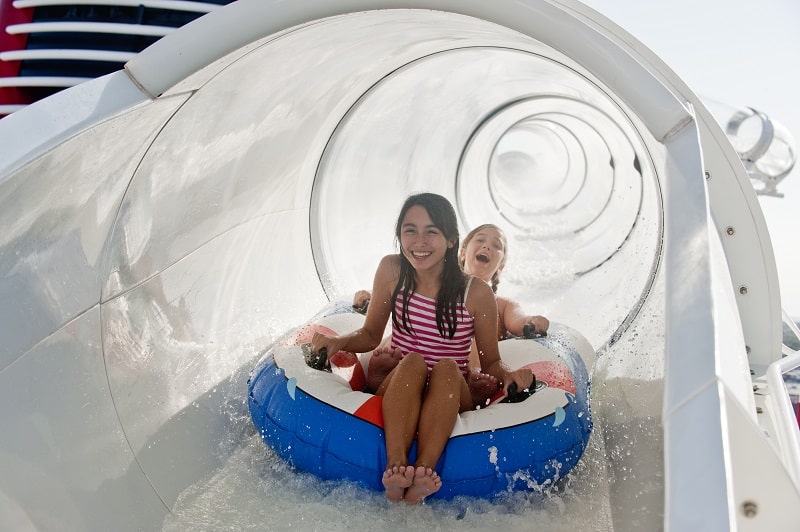 Disney Dream cruise ship offers a plethora of onboard experiences for its guests. Here are some highlights:
AquaDuck: A thrilling water coaster takes riders on a high-speed ride through twists, turns, and drops.
Edge: It's a youth club that caters to tweens and offers a variety of activities such as video games, music, and movies.
Vibe: It's a teen-only club with a coffee bar, dance floor, and video games.
Senses Spa & Salon: It's a luxurious spa that offers a variety of services, such as massages, facials, and hair styling.
Walt Disney Theatre: A Broadway-style theater hosts live shows and performances, including Disney-themed productions.
Buena Vista Theatre: It's a movie theater that screens the latest Disney movies and other popular films.
Character Meet & Greets: Guests can meet their favorite Disney characters, including Mickey Mouse, Minnie Mouse, and others.
These are just a few examples of the many onboard experiences on the Disney Dream cruise ship!
Disney Dream Fun Facts
Disney Dream is the third ship in the Disney Cruise Line fleet, joining Disney Magic (maiden voyage in 1998) and Disney Wonder (maiden voyage in 1999), and followed by the Disney Fantasy (maiden voyage in 2012).
Birthplace                  Meyer Werft – Papenburg, Germany
Maiden Voyage         Jan. 26, 2011
Home Port                  Port Canaveral, Fla.
Ship's Registry          Bahamas
Tonnage                     130,000 gross tons
Length                        1,115 feet
Beam                          121 feet
Draft                           28 feet
Height                         216 feet
Speed                          22 knots cruising speed (maximum 23.5 knots)
Crew                           1,458
Passenger Decks        14
Capacity                     4,000 passengers
Staterooms                 1,250
150 Inside Staterooms (12%)
1,100 Outside Staterooms (88%)

199 ocean view
901 verandah (includes 21 suites)
Itineraries
Three-, four- and five-night Bahamian itineraries departing from Port Canaveral, Florida.
Main Public Areas
Atrium Lobby – Deck 3
Walt Disney Theatre (1,340 capacity; live original productions) – Decks 3 and 4
Buena Vista Theatre (399 capacity; motion pictures) – Decks 4 and 5
Preludes theatre concessions – Deck 3
Bon Voyage atrium lobby bar – Deck 3
Vista Café – Deck 4
Shutters (Capturing Memories) photo gallery – Deck 4
Vista Gallery art gallery – Deck 4
Disney Vacation Planning Center – Deck 5
Guest Services – Deck 3
Port Adventures – Deck 5
Family Areas
D Lounge – Deck 4
Bibbidi Bobbidi Boutique – Deck 5
AquaDuck water coaster – entrance on Deck 12
Goofy's Sports deck – Deck 13
Donald's Pool family pool – Deck 11
Mickey's Pool children's pool – Deck 11
Nemo's Reef water-play area – Deck 11
Vanellope's Sweets and Treats – Deck 11
Mickey's Mainsail, Sea Treasures, White Caps retail shops – Deck 3
Whozits & Whatzits retail shop – Deck 11
Youth Areas
it's a small world nursery – Deck 5
Disney's Oceaneer Club – Deck 5
Disney's Oceaneer Lab – Deck 5
Vibe teen club – Deck 5
Edge tween club – Deck 13
Adult Areas
The District – Deck 4
Skyline bar
Pink: Wine and Champagne Bar
Evolution night club
Pub 687
District Lounge
Senses Spa & Salon – Deck 11
Senses Juice Bar – Deck 11
Quiet Cove Pool – Deck 11
Cove Bar – Deck 11
Cove Café – Deck 11
Meridian bar – Deck 12
Waves bar – Deck 12
Currents bar – Deck 13
Satellite Sun Deck – Deck 13
Dining
Enchanted Garden main dining (696 capacity) – Deck 2
Animator's Palate main dining (696 capacity) – Deck 3
Royal Palace main dining (696 capacity) – Deck 3
Remy adult-exclusive fine dining (68 capacity) – Deck 12
Palo adult-exclusive fine dining (128 inside / 16 outside capacity) – Deck 12
Cabanas casual dining – Deck 11
Flo's Café: Luigi's Pizza, Tow Mater's Grill, Fillmore's Favorites quick service – Deck 11
Eye Scream ice cream – Deck 11
Frozone Treats smoothies – Deck 11
Start planning your Disney Cruise Line vacation!
Request a FREE, No-Obligation Quote from one of our travel agents. Our services are provided FREE of charge. You won't pay more when you book with us. Start planning your Disney Cruise Line vacation today!
If you would like to request a quote for another destination, click here.
Discover More about the Disney Cruise Line
We've included links to other areas of our website where you can find more information on Disney Cruise Line and its exciting features.