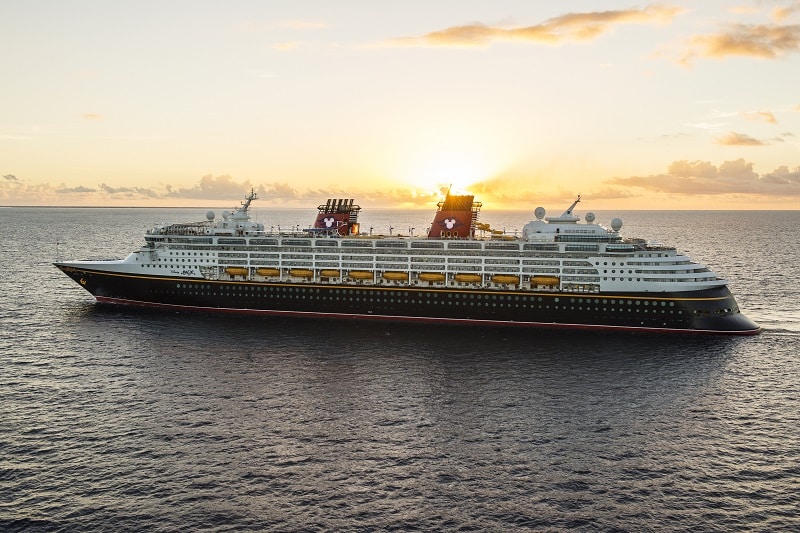 Welcome to the magical world of the Disney Magic cruise ship! This beautiful vessel is one of the most beloved ships in the Disney Cruise Line fleet. With its classic design and modern amenities, the Disney Magic offers an unforgettable experience for families and travelers of all ages.
Step aboard and be transported into a world of enchantment and adventure. Meet your favorite Disney characters, enjoy world-class dining, and experience spectacular live entertainment that will dazzle your senses. Relax and unwind in luxurious staterooms and indulge in exciting activities on board.
From swimming in the pool to watching movies under the stars, the Disney Magic has something for everyone. Kids can have fun at the youth clubs while adults can enjoy a range of adult-exclusive areas and activities. So whether you're looking for adventure or relaxation, the Disney Magic cruise ship promises to deliver an unforgettable experience that will stay with you for a lifetime.
Dining
Dining onboard the Disney Magic cruise ship is a culinary experience like no other. With a range of restaurants and dining options, there's something to suit every taste and mood.
For a fine dining experience, head to Palo, which offers Italian-inspired cuisine and breathtaking ocean views. For a taste of French cuisine, Remy is the place to be, with its elegant decor and exquisite dishes. Animator's Palate features a unique dining experience where the restaurant transforms from black and white to full color during the meal.
For families, there's the rotational dining system, where you can enjoy a different restaurant every night, each with its own unique theme and menu. There's never a dull moment, from the lively and colorful atmosphere of the Animator's Palate to the pirate-themed fun of the Pirate Night at the Royal Palace.
Quick-service dining options are also available for those who prefer a more casual dining experience. Enjoy burgers and fries at Pinocchio's Pizzeria, grab a sandwich at Goofy's Galley, or indulge in sweet treats at Eye Scream Treats.
No matter where you choose to dine onboard the Disney Magic, you're guaranteed an unforgettable culinary experience that will leave your taste buds wanting more.
Onboard Experiences
On board the Disney Magic cruise ship, you'll find a wide range of experiences that will keep you entertained throughout your journey. Here are just a few of the highlights:
Live Entertainment: From Broadway-style musicals to live shows featuring your favorite Disney characters, the entertainment onboard the Disney Magic is nothing short of spectacular. Be sure to catch a performance at the Walt Disney Theatre or head to the Buena Vista Theatre for the latest blockbuster movies.
Youth Clubs: Kids of all ages will love the youth clubs onboard Disney Magic. There's something for everyone from the Oceaneer Club for younger children to the Edge club for teens. Kids can participate in various fun activities, from arts and crafts to video games and dance parties.
Pools and Water Fun: Take a dip in one of the pools onboard or ride the thrilling AquaDunk waterslide. Kids will love the Mickey's Pool and the Twist 'n' Spout waterslide, while adults can relax in the Quiet Cove pool area or the Senses Spa pool.
Sports and Fitness: Stay active onboard the Disney Magic with a range of sports and fitness activities. Play basketball or soccer on the sports deck, hit the gym for a workout, or take a yoga or Pilates class.
Character Meet and Greets: Meet your favorite Disney characters onboard the Disney Magic. Get a photo with Mickey Mouse, hang out with the princesses, or give Olaf a warm hug.
These are just a few of the many onboard experiences available on the Disney Magic cruise ship. No matter what your interests or age, there's something for everyone to enjoy.
Disney Magic Kids Clubs
Kids of all ages will love the youth clubs onboard the Disney Magic cruise ship. The Oceaneer Club is perfect for younger children, while the Edge club is for teens. There's also the Vibe club for tweens.
The Oceaneer Club is a magical wonderland for kids, with themed play areas and activities inspired by Disney movies and characters. Kids can hang out with Woody and Buzz in Andy's Room, explore the Marvel Super Hero Academy, or create their own animations at the Animator's Studio.
The Edge club is a cool hangout spot for teens, with video games, music, and a range of activities. Teens can participate in dance parties and trivia contests and even take part in their own version of the Amazing Race.
The Vibe club is designed specifically for tweens, with a lounge area and a range of activities, including video games, karaoke, and dance parties. Tweens can also participate in scavenger hunts and team-building activities.
Trained counselors supervise all of the youth clubs, so parents can relax knowing their kids are in good hands. And with so many fun activities and experiences, kids will never want to leave the Disney Magic cruise ship!
Disney Magic Fun Facts
The Disney Magic is the first ship in the Disney Cruise Line fleet, joined by the Disney Wonder (maiden voyage in 1999), the Disney Dream (maiden voyage in 2011) and the Disney Fantasy (maiden voyage in 2012).
Birthplace                  Fincantieri – Marghera & Ancona, Italy
Maiden Voyage         July 30, 1998
Ship's Registry         Bahamas
Tonnage                     84,000 gross tons
Length                        984 feet
Beam                          106 feet
Draft                           25.3 feet
Height                         171.5 feet
Speed                         21.5 knots cruising speed (maximum 24 knots)
Crew                           950
Passenger Decks      11
Capacity                     2,713 passengers
Staterooms                875
262 Inside Staterooms (30 percent)
613 Outside Staterooms (70 percent)

229 ocean view
384 verandah (includes 22 suites)
Main Public Areas
Atrium Lobby – Deck 3 (atrium spans three decks)
Walt Disney Theatre (977 capacity; live original productions) – Deck 4
Buena Vista Theatre (278 capacity; cinema) – Deck 5
Preludes theatre concessions – Deck 4
Shutters photo gallery – Deck 4
Guest Services – Deck 3
Port Adventures – Deck 3
Family Areas
D Lounge – Deck 4
Wide World of Sports deck – Deck 10
AquaDunk – Deck 13 launch
Goofy's Pool family pool – Deck 9
AquaLab – Deck 9
Nephews' Splash Zone – Deck 9
Bibbidi Bobbidi Boutique – Deck 10
Sea Treasures retail shop – Deck 3
Mickey's Mainsail, White Caps retail shops – Deck 4
Quack's retail shop – Deck 9
Youth Areas
It's a Small World Nursery – Deck 5
Disney's Oceaneer Club – Deck 5
Disney's Oceaneer Lab – Deck 5
Vibe teen club – Deck 11
Edge tween club – Deck 9
Chill Spa for teens at Senses Spa & Salon – Deck 9
Adult Areas
After Hours – Deck 3
Senses Spa & Salon – Deck 9
Quiet Cove Pool – Deck 9
Cove Café – Deck 9
Signals – Deck 9
Promenade Lounge – Deck 3
Dining
Rapunzel's Royal Table main dining (471 capacity) – Deck 3
Animator's Palate main dining (471 capacity) – Deck 4
Lumiere's main dining (471 capacity) – Deck 3
Palo adult-exclusive specialty dining (116 capacity) – Deck 10
Cabanas casual dining (503 capacity) – Deck 9
Duck-In Diner, Pinocchio's Pizzeria, and Daisy's De-Lites quick service – Deck 9
Start planning your Disney Cruise Line vacation!
Request a FREE, No-Obligation Quote from one of our travel agents. Our services are provided FREE of charge. You won't pay more when you book with us. Start planning your Disney Cruise Line vacation today!
If you would like to request a quote for another destination, click here.
Discover More about the Disney Cruise Line
We've included links to other areas of our website where you can find more information on Disney Cruise Line and its exciting features.