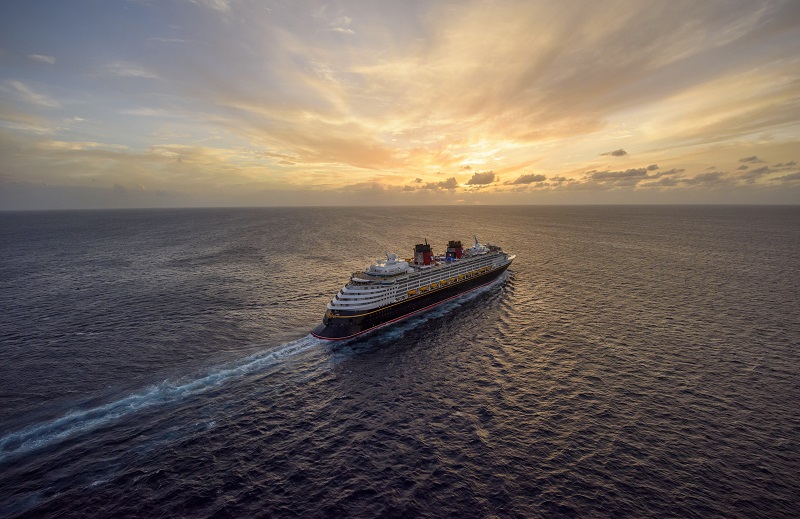 The Disney Wonder is a magnificent cruise ship that's part of the Disney Cruise Line fleet. It first set sail in 1999 and has since undergone several renovations to keep it up to date with the latest amenities and features. The ship is known for its elegant Art Nouveau decor, with beautiful details and artwork throughout the interior spaces. The Disney Wonder can accommodate up to 2,700 passengers and has a crew of 950, ensuring that guests receive top-notch service throughout their journey. In addition, the ship offers a range of onboard experiences, including live shows, dining options, youth clubs, and exciting activities for all ages. With its luxurious accommodations and world-class amenities, the Disney Wonder is the perfect choice for a magical and unforgettable cruise vacation.
Dining
Experience the ultimate culinary adventure onboard the Disney Wonder, where fanciful restaurants serve up delectable gourmet cuisine and casual bites, all infused with a healthy dose of Disney whimsy. Immerse yourself in a world of delicious flavors and enchanting ambiance as you explore the ship's diverse dining options. From elegant fine dining to laid-back snacking, there's something to satisfy every taste bud and craving. So come aboard and embark on a gastronomic journey where every meal is a magical experience.
Main Dining
Get ready to embark on a culinary journey like no other onboard the Disney Wonder, where a plethora of dining experiences awaits you. Indulge in mouthwatering American and French cuisine "under the sea" at Triton's, or be awed by the innovative dinner show starring beloved Disney characters at Animator's Palate. For a lively celebration of Southern cooking and live jazz music, head to Tiana's Place and savor the flavors of New Orleans. With a range of dining options catering to all tastes and preferences, you're sure to have a memorable culinary adventure onboard the Disney Wonder.
Casual Dining
If you're looking for a light and refreshing bite or a quick snack, head to Daisy's De-Lites onboard the Disney Wonder. Here, you can indulge in a range of salads, sandwiches, and wraps that are sure to get your tail wagging. And for those who crave a cheesy fix, Pinocchio's Pizza is the perfect place to grab a slice of mouthwatering pizza. But the dining options don't end there. If you prefer to dine in the comfort of your room, the convenient in-room dining service has got you covered. Whether it's a between-meal snack or a late-night craving, you can satisfy your appetite with ease. With so many delicious options, dining onboard the Disney Wonder is truly a treat for the taste buds.
Adult-Exclusive Dining
For a romantic and intimate dining experience onboard the Disney Wonder, head to Palo, where you can savor artfully prepared Northern Italian delicacies with a modern twist. The restaurant's Italian-inspired decor creates a warm and inviting ambiance, while the stunning sea views provide the perfect backdrop for a memorable evening. From the exquisite flavors to the impeccable service, every detail at Palo is carefully crafted to ensure a truly special dining experience. So, if you're looking to impress that special someone or simply indulge in a luxurious meal, Palo is the perfect destination for a night to remember.
Disney Wonder Fun Facts
Disney Wonder is the second ship in the Disney Cruise Line fleet, joining the Disney Magic (maiden voyage in 1998), the Disney Dream (maiden voyage in 2011) and the Disney Fantasy (maiden voyage March 2012).
Birthplace                  Fincantieri – Marghera, Italy
Maiden Voyage         August 15, 1999
Ship's Registry         Bahamas
Tonnage                     84,000 gross tons
Length                        984 feet
Beam                          106 feet
Draft                           25.3 feet
Height                         171.5 feet
Speed                         21.5 knots cruising speed (maximum 24 knots)
Crew                           950
Passenger Decks      11
Capacity                     2,713 passengers
Staterooms                875
Main Public Areas
Atrium Lobby – Deck 3 (atrium spans three decks)
Walt Disney Theatre (977 capacity; live original productions) – Deck 4
Buena Vista Theatre (278 capacity; motion pictures) – Deck 5
Preludes theatre concessions – Deck 4
Shutters (Capturing Memories) photo gallery – Deck 4
Guest Services – Deck 3
Port Adventures – Deck 3
Family Areas
D Lounge – Deck 4
Wide World of Sports deck – Deck 10
Twist 'n' Spout water slide – Deck 9
AquaLab interactive play area – Deck 9
Goofy's Pool family pool – Deck 9
Mickey's Pool children's pool – Deck 9
Dory's Reef splash zone– Deck 9
Edge – Deck 9
Sea Treasures retail shop – Deck 3
White Caps, Mickey's Mainsail retail shops – Deck 4
Youth Areas
It's a Small World Nursery– Deck 5
Disney's Oceaneer Club – Deck 5
Disney's Oceaneer Lab – Deck 5
Vibe teen club – Deck 11
Edge tween club – Deck 2
Bibbidi Bobbidi Boutique – Deck 10
Adult Areas
After Hours – Deck 3

Crown & Fin Pub
Azure
Cadillac Lounge

Senses Spa & Salon – Deck 9
Quiet Cove Pool – Deck 9
Cove Café – Deck 9
Signals – Deck 9
Promenade Lounge – Deck 3
Dining
Tiana's Place main dining (471 capacity) – Deck 3
Animator's Palate main dining (471 capacity) – Deck 4
Triton's main dining (471 capacity) – Deck 3
Palo adult-exclusive fine dining (120 capacity) – Deck 10
Cabanas casual dining – Deck 9
Pete's Boiler Bites, Pinocchio's Pizzeria, Daisy De-Lites quick service – Deck 9
Start planning your Disney Cruise Line vacation!
Request a FREE, No-Obligation Quote from one of our travel agents. Our services are provided FREE of charge. You won't pay more when you book with us. Start planning your Disney Cruise Line vacation today!
If you would like to request a quote for another destination, click here.
Discover More about the Disney Cruise Line
We've included links to other areas of our website where you can find more information on Disney Cruise Line and its exciting features.